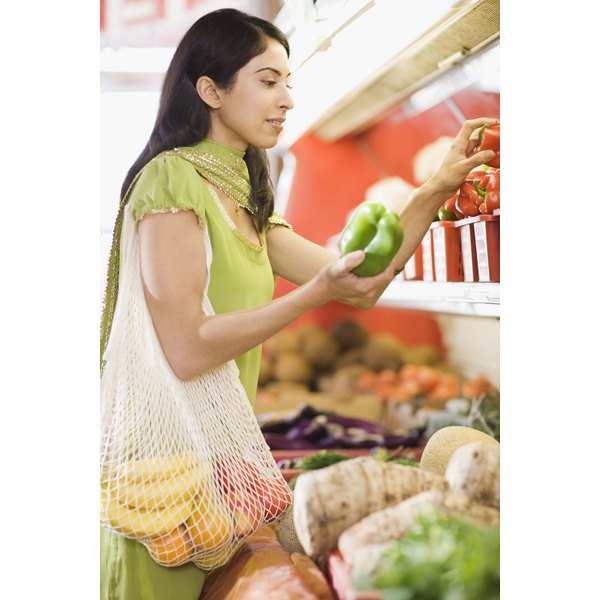 The decision to eat a healthy and nutritious diet may feel overwhelming at first. It may help to break your diet down into days, weeks and months, and look forward to a lifetime of benefits. Making a timetable for your diet will help you to get over the initial shock of cutting out the junk food and will assist you in your commitment to more nutritious habits.
Daily
Sudden drops in your blood sugar can leave you feeling drained and ravenous. Keep your blood sugar stable by eating three meals and two small snacks each day. At each meal, mentally divide your plate in halves and quarters. One half of the plate should be filled with green vegetables, one quarter with a lean meat or protein and the other quarter with complex carbohydrates. For instance, at dinner you might have a salad, brown rice and a salmon fillet.
Weekly
To ensure dieting success, it is important to strategize. At the beginning of each week, sit down and plan your trip to the grocery store. Make a menu of healthy entrees and write down the ingredients. Make a list of your between-meal snacks and any other staples you might need for the week. When you get to the store, stick to the list and avoid trouble spots such as the snack or candy aisles.
Monthly
If you try to overhaul your diet all at once, you may be setting yourself up for failure. Instead, set monthly goals to improve your nutrition gradually. For instance, during the summer, you might make it a goal to eat only locally grown produce for four weeks. The next month, try instituting a weekly vegetarian day and start collecting new recipes. Setting goals forces you to try new things and will help to stave off boredom.
For Lifetime
Although your commitment to a healthy diet may feel impossible in the first few weeks and months, the rewards of your new lifestyle are enormous. The phrase, "you are what you eat," is true. Once you ditch the junk and start feeding your body nutritious foods, you should feel more energetic and less sluggish. Visit your doctor semi-annually to assess the difference healthy eating has made in other areas of your life such as your cholesterol, blood pressure and weight.