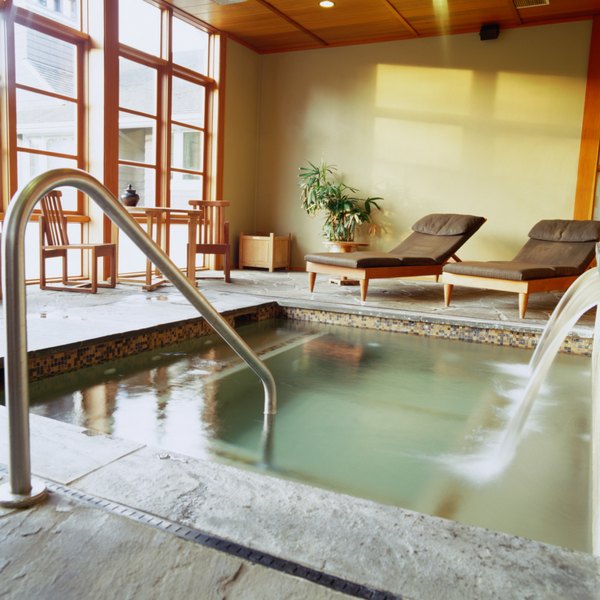 Spas in Florida offer a wide selection of weight loss programs that combine preventive health and relaxation treatments. Depending on preference, clients can select from programs that emphasize physical fitness to treatments that include counseling, meal restrictions and dietary instructions on healthy eating habits. Most spas recommend that participants remain in a weight loss program for at least eight to 12 days.
Ayurvedic Weight Loss Programs
Ayurveda is an ancient healing art from India, and it has been practice for more than 5,000 years. Ayurvedic weight loss programs are designed to treat the whole body and include natural detox, juice fasting and fitness restoration treatments. A typical ayurvedic program runs for eight to 12 days, and it is intended to restore the body to its natural state. Added benefits of this program include increased stamina and energy. Clients will receive ayurveda therapy and participate in yoga, exercise and meditation sessions for one to two hours a day. While daily yoga practice helps to tone and strengthen the body, meditation strengthens the mind and willpower, which is an essential feature of most weight loss programs.
The Pritikin Program
The Pritikin program is based on a strict eating regimen that includes fruits, vegetables, whole grains, seafood and lean meats. In addition to maintaining a healthful diet, exercise and lifestyle education is an integral part of the Pritikin weight loss program. Prior to starting their training, clients receive a complete medical evaluation from board-certified physicians. The tests include blood cholesterol and treadmill stress testing, blood chemistry evaluation, and one-on-one consultation to determine a client's health status and weight loss objectives. The Pritikin weight loss program consists of customized exercise programs that include cardiovascular conditioning and strength training, stretching, yoga and meditation, and dance. Clients also receive comprehensive training on healthy eating habits from registered dietitians and chefs. Educational sessions include smoking cessation, healthy restaurant dining, cancer prevention, and the art of simple cooking.
Weight Loss Boot Camp
Weight loss boot camp training focuses on high-energy, dynamic body weight training through exercises classes like Zumba, Pilates and cardio-kickboxing. Participation in boot camp weight loss training sessions is limited to small class sizes. The three-week-long boot camp sessions are open to all levels and include three healthful meals, five hours of daily walking, a wellness lecture and a 50-minute personal spa treatment. While the emphasis of weight loss boot camps focuses on intense daily workout sessions, clients will learn how to develop healthy eating habits through simple menus like grilled French toast, turkey burgers, free-range roasted chicken and fresh, wild salmon.
All-Inclusive Health Program
All-inclusive health programs combine weight loss training, fitness and health awareness. Clients may customize their personal weight loss goals in consultation with certified weight management staff. The program provides clients with a foundation on the causes of weight gain, and the importance of energy balance and proper food intake. Clients receive training on proper exercise techniques that focus on body fat, fluid and muscle tone. The weeklong training combines juicing and fasting, smoking cessation and fitness.
Life Change Program
Life change weight loss programs combine an enzyme-rich diet derived from raw foods, with lifestyle changes such as positive thinking, and therapies like yoga and aerobics as well as sauna, mineral pools and hot tubs for effective weight loss. Clients receive a live blood cell analysis; physicians create a personalized detoxification program for each client by recommending special diets and supplements. The goal of life change weight loss programs is to increase the body's metabolism and energy level.