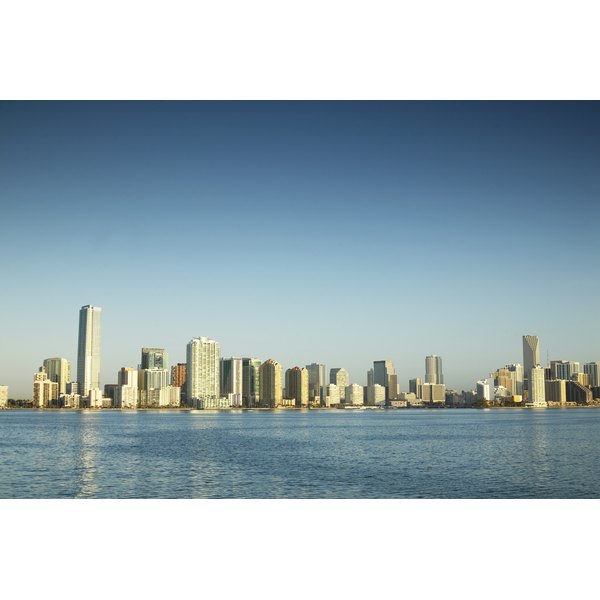 In Miami, nestled along the Atlantic coast in Florida, parents can keep their kids happy and busy during the summer by signing them up for one of the exciting summer camps offered. Summer camps give children the opportunity to make new friends, experience new things and learn new skills. When kids are kept busy, it can leave less time for them to get into mischief.
Zoo or Museum Camps
Zoo Miami offers a Zoofari Camp for kids, ages 4 to 13, with activities that help teach about the animals at the zoo, wildlife and conservation. Your children can interact with zookeepers, experience animal encounters and participate in arts and crafts. The Miami Children's Museum holds a variety of camps throughout the year, such as the One-Day Camp Around the World Series: Explore Brazil. Activities include dancing, crafts, snacks and martial arts. Summer camp at the Miami Science Museum provides your kids with eight weeks of science, technology, nature and engineering activities, which may include field trips, science projects, cooking, sports and swimming.
Parks and Recreation Camps
The Miami-Dade County Parks, Recreation and Open Spaces department has summer camps for kids to participate in. Fit2Play Summer Camps are for children ages 6 through 14 and includes arts, crafts, fitness activities, games, field trips and nature encounters. The summer camps held at Deering Estate at Cutler include Eco-Academy, where kids 6 years old and older can participate in hands-on activities that teach about the world around them. Kids 9 and older can go for the Wildlife Conservation Studies to connect with the environment and those 12 year olds and older can learn about the fundamental concepts in biology, environmental science and ecology at the Applied Environmental Science camp.
College Camps
You can check out the camps offered through some of Miami's colleges and universities. The University of Miami, Frost School of Music, offers some summer youth music camps, which help kids to build on their musical and social skills. UM MusicTime Camp is for kids 4 1/2 to 6, Young Musicians' Camp is for kids 7 to 18, Summer Guitar Camp is for middle school and high school students and Frost Audio Institute is available for high school students. At Miami Dade College, you'll find kids and teens summer camps at the North Campus, Kendall Campus and the Aventura Center. Your children can choose from dance, music, sports, robotics, art and technology.
YMCA Summer Camps
The YMCA of Greater Miami has an assortment of summer camps for you and your children. Dance Express is for children 5 to 12 and includes an introduction to jazz and hip-hop. Preschool Camp is for children 1 to 5 years old and has themes like Cartoon Week, Circus Week and Picnic Week. Sports camps include basketball, soccer and tennis. Exploration Camps are filled with adventures, including swimming and field trips. The Jr. Marine Biology Camp gives children hands-on experiences that teach about sea life, with snorkeling, scavenger hunts and classroom learning.