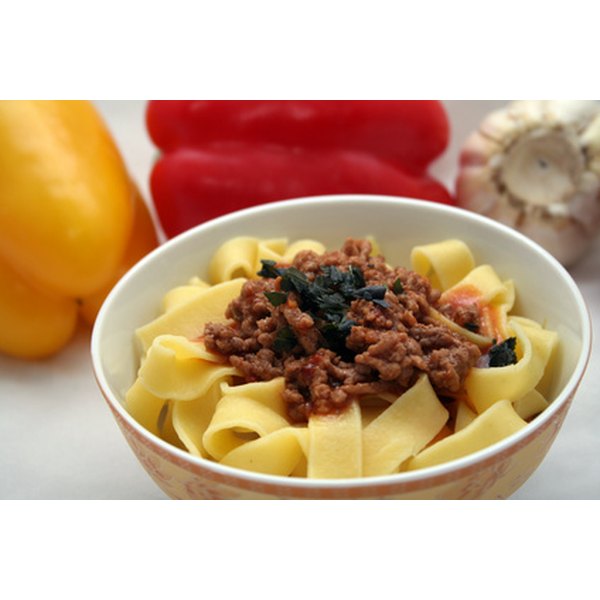 There are plenty of meal-planning companies on the market targeting those who want to control their diets. If you want to lose 50 pounds or more, choose a meal plan that offers balanced meals and proper portions. Those with lean protein, complex carbohydrates and healthy fats in each meal will be the most effective in helping you lose 50 pounds.
Jenny Craig
Jenny Craig offers meal planning, special food and person-to-person consultations to help you lose 50 pounds. Jenny Craig's diets and meals are designed by registered dietitians who adhere to the guidelines of the U.S. Department of Agriculture, or USDA. The meals include plenty of fruits, vegetables, whole grains and reduced-fat dairy products, as well as lean meat, fish, beans, eggs and poultry. Their meals strive to eliminate sugars, saturated fats, cholesterol and sodium. Jenny Craig meal plans teach you to eat smaller, more balanced meals throughout the day and feature controlled portions that are packaged and sold under Jenny Cuisine. Jenny Craig's meal plans also give you access to a personal diet consultant who will help you monitor your daily diet and teach you to cook meals at home to help promote your effort to lose 50 pounds.
Weight Watchers
Weight Watchers offers meal plans and interaction with supporters to help you reach your weight-loss goal of 50 pounds. Weight Watchers has programs for men and women and other programs specific to certain weight-loss goals. Weight Watchers' meal plans are based on a point-system in which you can eat a certain number of points each day. Weight Watchers also offers regular meetings to help you learn about effective ways to eat healthier and to stay within the Weight Watchers meal plans. Weight Watchers meal plans are balanced, low in calories and fat, and feature moderately sized portions in line with USDA recommendations.
Nutrisystem
Nutrisystem is a weight-loss meal plan that sends you premade meals. Using Nutrisystem, you follow a predesigned meal plan each month and eat meals researched and created by weight-loss professionals. Nutrisystem meals practice portion-control and feature lean meat, complex carbohydrates and lots of fruits and vegetables. Unlike Jenny Craig and Weight Watchers, Nutrisystem does not feature a lot of interaction or consultation with others looking to lose 50 pounds. Nutrisystem meal plans also feature meals and snacks high in fiber, helping you feel fuller longer so you don't overeat.