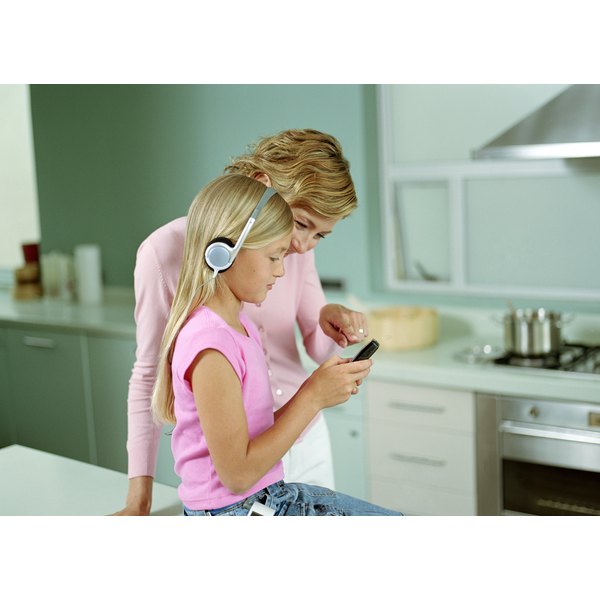 In many families today, both parents and their children--sometimes even young children--have their own cell phone. Children are texting their friends outside the classroom and sometimes even during class, making this one reason parents need to track their children's cell phone use. Parents have opened their monthly cell phone bills to discover unpleasant surprises when they see hefty service fees for over limit texts and phone calls or music, wallpaper and ringtone downloads. Safety is another reason to monitor children's cell phone uses—sexual predators have tricked children into sending inappropriate photos via their cell phones.
Talk to your cell phone provider and find out if it has a monitoring service you can use to monitor your child's use of her phone. Many providers offer monitoring services that you can add to your plan for a monthly fee.

Subscribe to an online monitoring service by creating an account and entering payment information. Enter your child's friends and family call list online from his phone book. The site then monitors voice and text activity for each child you enter. You have the ability to log in and monitor phone use online or you may receive monthly activity reports.The service will begin tracking text messages and incoming phone calls, including their duration.

Ask your cell phone service provider about parental control services. Parental controls allow you to set days and times when your child is allowed to use her phone, for instance, after school and on weekends. Limit your child's access to music and game downloads, suggests Symantec.

Limit your child's ability to send or receive photo texts by asking your cell phone provider to block your child's ability to send or receive photo messages. This protects your child from adult predators who might try to get your child to send sexually explicit pictures of himself or his friends, writes Symantec.

Read your monthly cell phone bill to see how many minutes your child has used for voice service and text messaging. Make note of when calls or texts are sent and received. If your bill shows late night activity on your child's number, this is an indication you need to talk to her and find out if she is involved in a situation you should know about, says Symantec.

Tip

Monitor and limit your child's access to new ringtones and wallpaper for his phone. You are charged for them at the time of download and you pay every month for him to have them on his phone.

Warnings

A variety of problems can arise from irresponsible cell phone use. The law can get involved when children participate in "sexting" -- sending or receiving sexually explicit picture texts. Children can become victims of sexual solicitation or cyberbullying. While these issues commonly arise from computer use, with Internet access on cell phones, it is an equal problem with many cell phones.