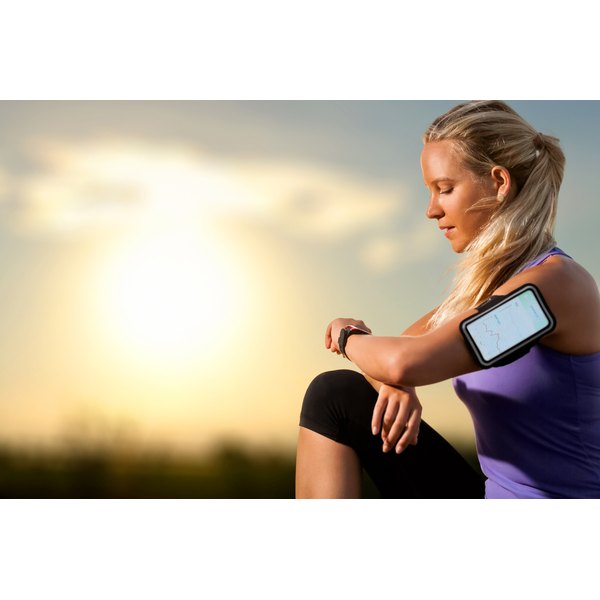 The Garmin Forerunner 305 is a fitness accessory designed for use by runners and cyclists; the device uses a built-in GPS sensor to help gauge your pace and track your progress along your chosen route. When paired with a Garmin heart monitor, you can also use the 305 to check your heart rate as you exercise. Each Garmin heart monitor possesses unique identification information that the 305 stores in its memory, allowing the device to tell your monitor apart from any others.
Turn over the heart rate monitor and locate the battery compartment built into the rear panel. Insert the edge of a thin coin into the slot on the battery cover. Twist the coin counterclockwise until the arrow printed on the cover points towards the word "open."

Remove the cover and install the CR2032 battery in the battery bay with the positive terminal facing up. Replace the cover and use the coin to turn the arrow towards the word "close."

Moisten a wash cloth with cool tap water. Squeeze a few drops of water onto the sensors located on the back of the monitor's strap. Place the back of the monitor against the skin on your chest; position the monitor such that the logo is facing up. Wrap the strap around your body and connect it to the side of the monitor. Tighten the strap until the monitor is snug against your chest.

Carry the Garmin 305 to a location more than 3 meters from any other nearby heart monitors. Hold down the power button, located on the upper-left corner of the watch face, until the device activates. Examine the upper-right corner of the watch display and locate the heart icon. Wait for the icon to stop flashing before you proceed.

Press the "mode" button, located on the lower-left corner of the watch face. Use arrow buttons to select the option labeled "Settings" and press the button labeled "Enter." Use the arrow and "Enter" buttons to navigate to the "General" menu, then select "Data Recording." Set the "Record Data Points" option to "Smart Recording."

Tip

If the Garmin 305 is unable to detect the signal from your transmitter, access the "Settings" menu and navigate to "General," then "Accessories;" select "Restart Scan" from the heart monitor options.

Warnings

Avoid using the Garmin 305 around power lines, computers, televisions or mobile phones. These devices emit electromagnet fields that may interfere with the transmitter's signal.