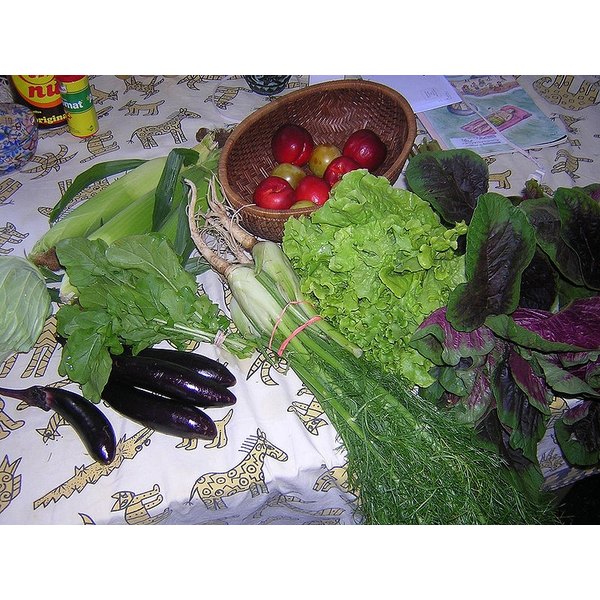 A fruit and vegetable diet plan can be a way to accelerate weight loss, and it does not require a commitment to a vegetarian or vegan lifestyle. It only requires that an individual eat fruits and vegetables, which provide the body with valuable nutrition, instead of less healthy foods.
Features
According to weightlossnutrition.org, a fruit and vegetable diet plan can increase metabolism and add to nutritional health. Dieters should eat four to five servings of vegetables and two to three servings of fruit daily. While this diet is safe to follow for a long time, extreme dieting is never advisable. As always, do not begin any diet without first consulting a physician.
Function
Weightlossnutrition.org recommends eating fruits and vegetables for their essential nutrients, water and fiber. Produce helps you feel full longer and can satisfy your craving for sweets, and raw versions are more nutritious than those that are cooked. If you want to cook vegetables, steam them and don't overcook them.
Selections
Weightlossnutrition.org advises eating fruit raw and vegetables raw or steamed and without oil or butter on them. Greensmoothie.com cautions about consuming the same greens too many days in a row, as they can be toxic. Accordingly, you should a cross-section of green vegetables on a regular basis. Weightlossnutrition.org recommends a variety of vegetables, including alfalfa sprouts, broccoli, spinach, okra, carrots, zucchini and leeks. Recommended fruits include tomatoes, apples, blueberries, strawberries, oranges, cranberries and blackberries. The fruit and vegetable diet includes many super foods, such as grapes, bananas and dates, which are excellent additions to salads and nutritious smoothies.
Raw Foods
Consider making a lifestyle changes to include raw and livings foods in your diet, focusing primarily eating vegetables and a limited amount of fruits. Raw foods mean they are not cooked above 106 degrees Fahrenheit, while living foods are sprouted produce such as bean sprouts and radish sprouts. You can slowly wean yourself from processed and cooked foods while incorporating more raw foods into your eating regimen. Raw food advocates claim this kind of diet encourages weight loss.