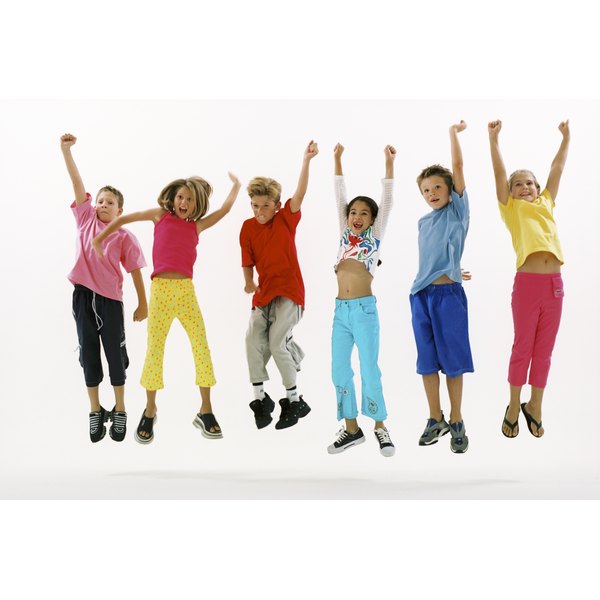 Sometimes weather conditions in Lexington, Kentucky aren't conducive for kids to play outdoors. Summer days can get muggy due to high humidity -- and then there are those rainy and snowy days. The good news is that there are weatherproof activities to keep the kids busy and happy all year round.
Indoor Bouncing
Your kids will literally be jumping up and down with joy at Monkey Joe's (www.monkeyjoes.com), which provides kids ages 12 and under with jumping, sliding, and bouncing fun, featuring inflatable slides, jumps, and obstacle courses. Monkey Zone also has an area specifically for children ages 3 and under with age-appropriate games, puzzles and soft-landing spots. Another bouncing option is BounceU (www.bounceu.com), which has regularly scheduled open bounce sessions as well as business hours set aside for private parties. There is no age limit other than a recommendation that an adult accompany toddlers.
Museum Activities
Several museums in Lexington offer children hands-on experiences. The Aviation Museum of Kentucky (www.aviationky.org) features several flight simulators that kids of any age can operate -- although older children are likely more competent than toddlers and preschoolers, who will need parental assistance. While your children won't get to ride a horse at the American Saddlebred Museum (www.asbmuseum.org), Lexington itself is in the middle of Kentucky's horse country and this museum provides a comprehensive look at this unique, high-stepping horse and its role in U.S. history. Some exhibits change seasonally; however, a year-round children's section offers some interactive opportunities and a theater show featuring saddlebred horses. The Explorium (www.explorium.com) offers drop-in hours on Saturday and Sunday during which preschoolers and older kids and can explore the museum's various interactive exhibits, which include a Healthy Body exhibit, flight simulator and an interactive world culture map.
Library Storytimes
Storytimes at the Lexington Public Library (www.lexpublib.org) often incorporate age-appropriate math, science and music lessons into a selected reading session. There are baby storytimes for ages 6 to 24 months, toddler programs for 2 and 3-year-olds and preschool sessions for ages 3 to 5 that are interactive to make stories more fun. Family storytime sessions for all children up to age 5 provide families with an opportunity to explore reading together.
GattiTown
The Lexington branch of the Mr. Gatti's Franchise Network is a 30,000-square foot indoor family fun center for all ages. GattiTown Lexington (www.gattitownlexington.com) offers more than 150 video games including high-tech virtual reality games, as well as basketball, soccer, air hockey and horse and car racing. Older kids can test their driving skills with the bumper cars, while an indoor carousel provides a safe ride for younger children.