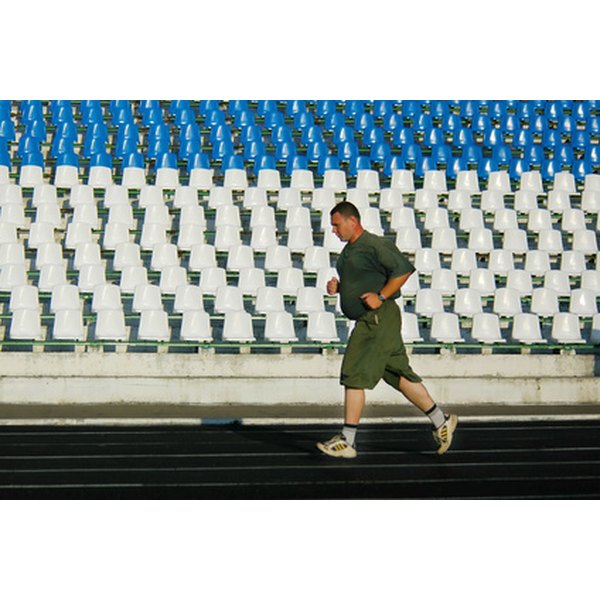 The weight loss camps of the American Southwest provide adults with physical and nutritional activities designed to put participants on the path to a healthier lifestyle. In addition to a rigorous exercise regimen, the adult weight loss camps of New Mexico and Arizona will provide those searching for a healthier life the necessary mental and dietary tools to maintain the lifestyle principles of the camp once the programs have come to an end.
Camps
Weight loss camps for adults in New Mexico and Arizona include the Strength Wellness Athletic Training--or SWAT--program, the Phoenix Adventures Boot Camp weight loss and fitness program for women, the Birch Creek Health and Weight Loss Retreat of the Southwest, and the Ultimate Body Boot Camp, which comes with the slogan "Look Good Naked." Arizona is also home to four branches of the "unstoppable fitness formula" of the national fitness and weight loss program Fit Body Boot Camp.
Locations
The four Fit Body Boot Camp centers in Arizona are Mesa/Las Sendas Fit Body Boot Camp, Mesa Fit Body Boot Camp, Scottsdale Fit Body Boot Camp and Tucson Fit Body Boot Camp. Outlets of the Ultimate Body Boot Camp of Arizona can be found throughout the Phoenix Valley, in towns such as Phoenix, Glendale and Scottsdale. SWAT makes its home in Tucson, and the Phoenix Adventures Boot Camp is in, well, Phoenix. Birch Creek Health and Weight Loss Retreat can be found in Santa Fe, New Mexico.
Programs
Ultimate Body Boot Camp runs weight loss programs three days per week. Each class is one hour long and incorporates core conditioning, yoga, Pilates, calisthenics, abdominal toning, cardiovascular exercises, and short distance running. SWAT provides boot camps, personal trainers, and group classes in calisthenics and weight training. SWAT also offers nutritional training that teaches participants how to maintain a diet that will precipitate an active and healthy lifestyle. Phoenix Adventures and Fit Body Boot Camps provide rigorous exercise and training. Birch Creek has three-, seven-, 14-, and 21-night residential programs incorporating juice detoxification, workout sessions, nutrition courses, vegetarian cuisine, heated-pool swimming, and hiking.
Philosophies
SWAT approaches adult weight loss and fitness with a three-pronged philosophy of mind, body and spirit. Trainers and chefs at SWAT develop exercise regimens and nutritional programs for each boot camp participant. Mental training includes developing the proper state of mind and strategies for living a healthier lifestyle. Trainers at SWAT also help camp participants identify "self-sabotaging" thoughts and behaviors that may be inhibiting spiritual health and preventing individuals from living healthier lives. Phoenix Adventures camp is lead by a certified emotional intelligence and food psychology coach who approaches weight loss and fitness from a psychological and physical perspective.
Rates
In 2010, Ultimate Body Boot Camp rates are $285 per month for three training sessions per week, $199 per month for those who sign up for three months of training and $185 per month for those who sign up for six months of training. Fit Body Boot Camp charges a monthly rate of $197 in 2010. Birch Creek of New Mexico has varying rates, each of which is contingent on the length of a stay. For the 21-day program, fees are $9,168 for a single room, $6,658 each for a double room, $10,098 for a deluxe single room, and $7,125 each for a deluxe double room. The rate includes room and board, plus access to all facilities, with training sessions.