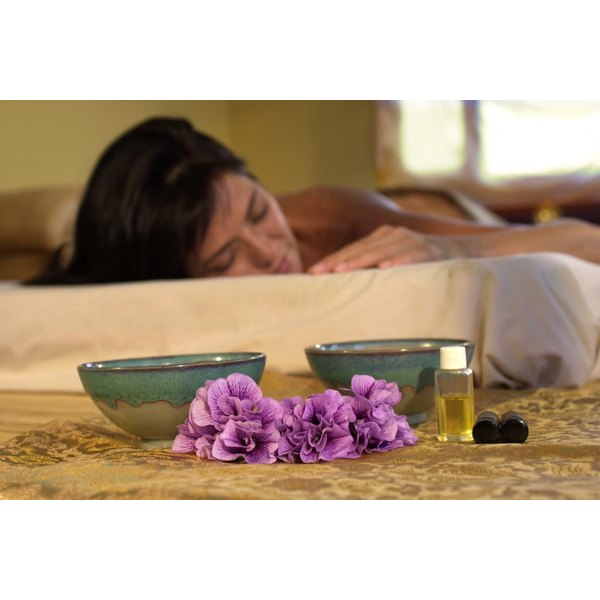 Botanical essential oils are used for a variety of purposes, such as making herbal medicines, natural cosmetics, organic gardening controls, natural pet care products and environmentally friendly household cleaners. Of course, your efforts to create a healthier home and planet are undermined if you don't use essential oils made from raw plant materials that are free of pesticides and other contaminants. Fortunately, there are several reliable manufacturers of essential oils that adhere to organic quality standards and certification requirements.
Quality Standards
The best organic essential oils come from distributors that are committed to supporting organic agriculture through the use of raw materials obtained from sources that adhere to practices that reflect sustainability and fair trade. This not only ensures that the final products are not adulterated with chemical contaminants, but also that the workers who harvest the raw materials were paid a fair wage according to The Fair Trade Federation guidelines. These distributors seek to utilize materials from regional, certified organic farmers first, and then any materials that must be sourced from a foreign country are negotiated according to the same standards. In addition, if the distributor grows its own source of botanicals, then the company should do so to the exclusion of any synthetic fertilizers or chemical pesticides.
Organic Certifications
Resellers and suppliers of quality organic essential oils will proudly display any certifications they possess that prove their products are, in fact, organic. In the United States, certification is administered by a certification agency accredited through the U.S. Department of Agriculture, or USDA. According to the USDA, there are 49 domestic and 35 foreign accredited certifying agents registered with the National Organic Program.
Model Suppliers
Mountain Rose Herbs is a supplier which has been operating since 1987. The company grows many of its own herbs and is certified as an organic processor through Oregon Tilth, an accredited certifying agent of the USDA National Organic Program. The company also supports fair trade protection and has been recognized with several industry awards for its sustainable initiatives and green business practices.
Another supplier of quality essential oils is Frontier Natural Products, which acquired the Aura Cacia brand in 1993. Like Mountain Rose Herbs, Aura Cacia also employs a sustainable sourcing program, as well as initiatives that support fair trade and ethical harvesting and production. Quality Assurance International certifies both of their production facilities as organic, and their essential oils are certified through the USDA National Organic Program.