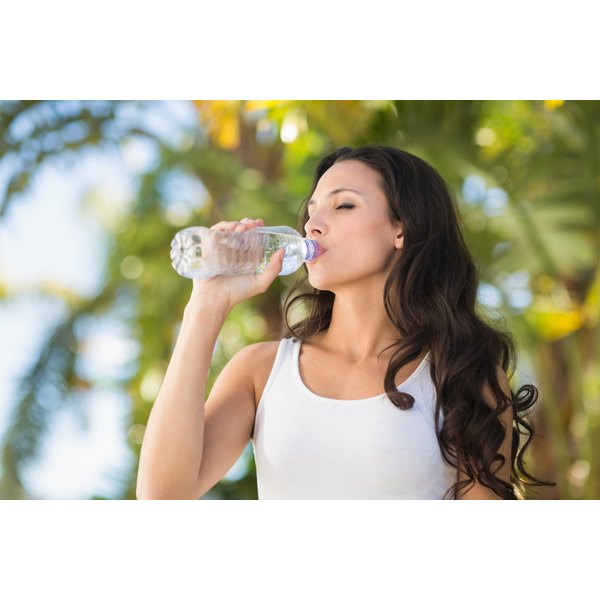 It is quite possible to look skinnier in a week or less. The wrong way to go about it is to starve yourself, which actually slows your metabolism down and primes your body to store fat, according to "The Abs Diet" by David Zinczenko. However, there are some simple tricks to speed up your metabolism and safely lose water weight to drop a few pounds and create the illusion of being leaner. Follow a few simple steps to get skinnier in a week.
Eat five or six smaller meals throughout the day to speed up your metabolism, suppress hunger and keep your energy high, says "The Fat Burning Bible" by Mackie Shilstone. Eating more frequently actually encourages fat burning, whereas the typical three large meals per day leads to fat storage. Try having two or three snacks between your three daily meals to rev your metabolism.

Follow a low-carb diet for a week, eating no more than 50 grams of carbohydrates per day. Low carbohydrates work great for short-term diets because they force your body to burn its own stored fat for energy. In addition, your body depletes its muscle glycogen stores, which causes a dramatic water loss effect. Draining water out from under the skin creates the illusion of being leaner.

Drink eight 16-ounce glasses of water every day to provide proper hydration during your one week diet. Not only does water make every process in your body function more smoothly, but it also naturally increases your metabolic rate and helps to eliminate toxins, according to "Combat the Fat" author Jeff Anderson.

Have an apple cider vinegar energy drink three to five times daily. According to the "Miracle of Fasting" author Paul Bragg, apple cider vinegar detoxifies, suppresses hunger, aids in digestion and speeds up weight loss. Mix 2 tablespoons of raw organic apple cider vinegar, one packet of stevia, 8 ounces of water and lemon to taste.

Do 30 minutes of cardiovascular exercise up to twice a day for six days during your week-long diet. The best times to do your cardio are on an empty stomach after waking, or before retiring. Examples of cardio include walking, jogging, swimming, biking or using the treadmill, exercise bike or elliptical machines at the gym.

Take a few natural fat-burning and diuretic supplements to speed up metabolism and eliminate water weight. Combining 500 milligrams of green tea extract with EGCG and 200 milligrams of caffeine can substantially boost your metabolic rate to burn fat faster, according to "Supplements 101" in "The Ultimate Supplement Handbook." In addition, take 500 milligrams of dandelion root two times per day to naturally increase water loss.

Tip

Consult with your doctor before beginning any weight loss or supplementation program.

Warnings

Never take in fewer than 1,200 calories per day.