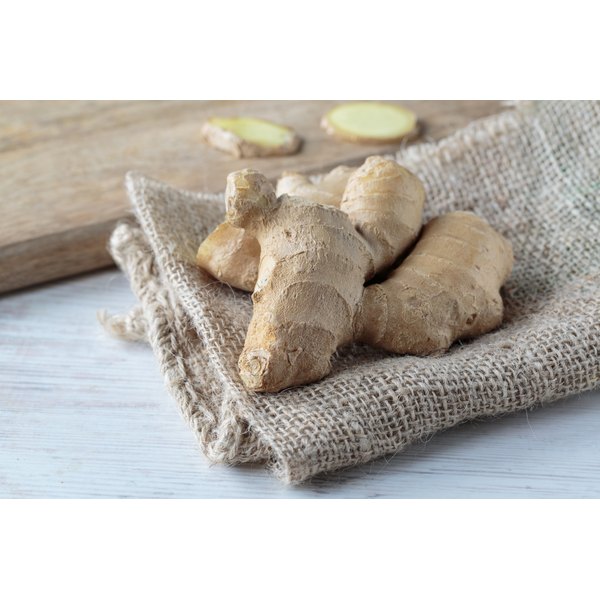 Ginger, or zingiber officinale, is the root of a plant native to China and India. When ingested, according to Dr. Linda B. White, author of "The Herbal Drugstore," it can increase the metabolism and assist with fat burning. As a topical treatment it is not as affective, but it can help reduce the appearance of subcutaneous fat—fat under the skin. Valerie Ann Worwood, author of "The Complete book of Essential Oils and Aromatherapy," suggests a blend of ginger essential oil, with other oils, in a nightly massage and bath soak to encourage fat loss.
Pour 2 tbsp. almond oil into a ceramic dish. Add 10 drops of carrot oil. Swirl the dish to blend the two oils together.

Add 15 drops ginger, 10 drops lemon and five drops cypress essential oils to the dish. Swirl the dish, then add five drops juniper essential oil and swirl again.

Dip your fingers into the dish and massage the oil into your problem areas.

Run a warm bath. Add 15 drops ginger, 10 drops lemom, five drops of cypress and five drops of juniper essential oils to the bath water.

Soak for at least 20 minutes and massage your problem areas. Add more hot water, if desired.

Pat yourself dry with a thick towel. Repeat every night for 30 days.

Tip

If you do not wish to take a bath each night, reduce the bath frequency to once a week but massage the oil into your problem areas each night.

Essential oils can irritate the skin. Always mix essential oils with a vegetable-based carrier oil before applying to the skin.

Those with nut allergies can substitute grapeseed, jojoba or olive oil for almond oil.

Warnings

Avoid getting the oils into your eyes.