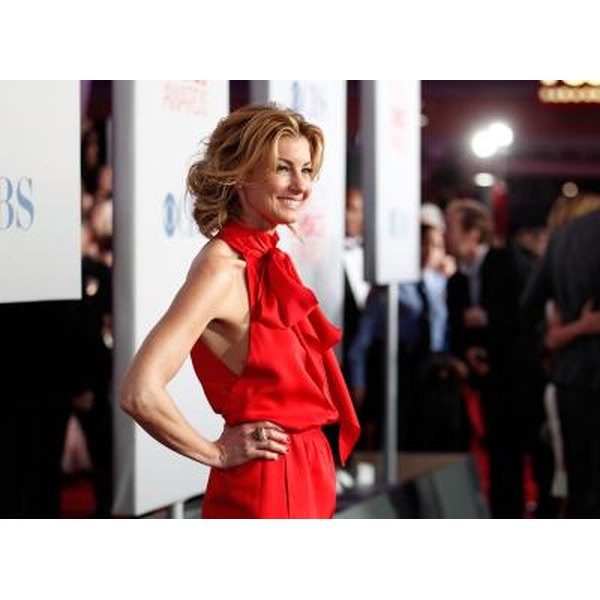 Faith Hill is well known for many things. As a country and pop singer she's won Grammy awards and topped the music charts several times. But she's also famous for her slim figure, even posing for bikini photos in "Shape" magazine at age 41. Hill typically doesn't keep a rigid fitness regimen, but she eats a healthy diet and performs regular exercise, which is a recipe for success for anyone.
Healthy Eating
Hill says she doesn't diet formally, but tries to eat smart. For example, she prefers eating salads for lunch and gets much of her protein from chicken and fish. She also drinks 70 to 90 ounces of water per day. As an exception to her rule of not strictly dieting, Hill has used the Tracy Anderson method. Anderson advocates 30- and 90-day programs with very limited food choices, including carrot parsnip puree and a sweet potato-corn blend. The Anderson method includes one to three hours of aerobic and Pilates-type exercise per day and focuses on weight loss, rather than muscle development. Check with your doctor before trying the Anderson method to be sure your basic nutritional needs will be met by the program's regimented, low-calorie diet.
Hill's Fitness History
When she was younger, Hill -- who was born in 1967 -- stayed fit by running track, and by playing basketball and softball. In her 20s and 30s she became an on-again, off-again exerciser depending on her work schedule and family responsibilities. Those tasks included caring for three children. She returned to regular exercise in 2008, following knee surgery earlier in the year, and appreciated the results. She told "Shape" magazine that thanks to her fitness program she could "bend in ways I haven't been able to since I was a teenager." Hill, who has a home gym, told "Fitness" magazine that she must schedule her exercise sessions, "or I simply will find an excuse to not work out."
Increase Cardio
Running was once Hill's cardio exercise of choice. Now she favors lower-impact activities, such as brisk 2- or 3-mile walks. She also performs regular 4-mile routines on an elliptical trainer. If Hill's program isn't right for you, the Centers for Disease Control and Prevention recommends at least 150 minutes of moderate cardio activity per week, which means you're exercising at roughly 50 to 60 percent of your maximum intensity. If you're looking to lose weight, consider increasing your cardio output to 300 minutes each week.
Include Strength Training
Although Hill isn't into bodybuilding, she doesn't ignore strength training. The singer lifts light weights and performs exercises such as crunches and pushups. She also does three Pilates classes each week. Whether you follow Hill's lead or perform different exercises, strength training can help you stay slim because the increased muscle mass revs up your metabolism and allows you to burn more calories while you're at rest.