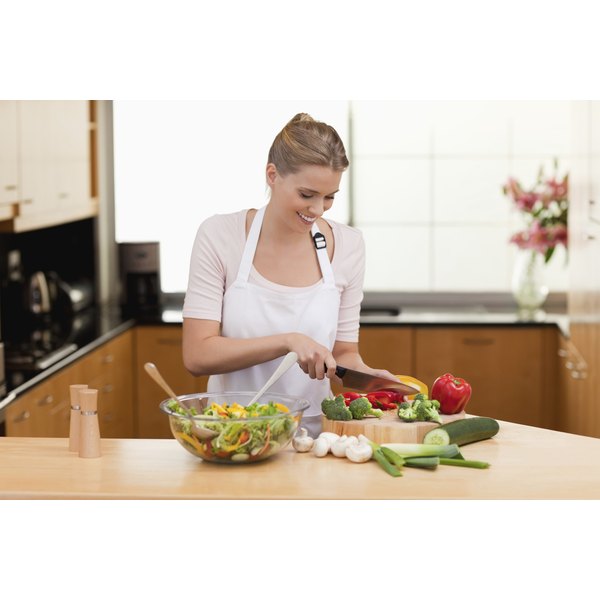 A traditional American diet includes large portions of meat and dairy products. These products can be high in calories, saturated fat and cholesterol, making them unhealthy foods to form the bulk of your diet. A vegan diet plan eliminates all animal products, including meat, dairy, poultry, fish, eggs and honey. You may start a vegan diet to lose weight, improve your health, reduce your environmental impact or out of concern for animals. To start a vegan diet, plan your meals carefully to avoid nutrient deficiencies.
Consult a registered dietitian. A dietitian is trained to analyze your diet and lifestyle to determine your nutritional needs, and their insight and expertise will help make your transition to a vegan diet much smoother.
Decide whether you want to gradually transition into a vegan diet or give up animal products cold turkey. Some people find that starting a vegan diet in gradual stages increases their commitment to the diet plan.
Make a list of vegan recipes you already work into your meals. Many who are not vegans eat lentil soup, bean salads or a meatless red sauce over pasta. Start your vegan diet by eating those vegan meals with which you may already be familiar, such as oatmeal or cream of rice for breakfast.
Make a list of your favorite recipes that aren't vegan. Identify substitutes for the animal products in each recipe. Think about soy or gluten meat substitutes, soy dairy products, egg substitutes such as flax eggs, vegetable oils, whole grains, beans and other vegan ingredients you can incorporate into your favorite recipes. Use grilled mushrooms to add meaty texture to dishes, swap out regular hamburgers for veggie burgers made from lentils, mushrooms and bulgar and try using agave or brown rice syrup instead of honey
Compile a list of vegan recipes. Purchase a vegan cookbook, find vegan recipe websites or swap ideas with a vegan friend. Having a large number of vegan recipe options helps you stick with your new diet.
Eat a balanced diet that includes lean protein, carbohydrates and healthy fats. Avoid becoming protein deficient by incorporating 5 or 6 ounces of soy products, beans, seeds and nuts into your diet each day. Eat wheat germ, whole grain products, soy-based foods, peas, dried fruits, lentils and nuts to receive zinc and iron.
Track your daily food intake using an online food journal. Note any deficiencies in nutrients traditionally derived from meat and other animal products and take a multivitamin to supplement your dietary intake of these important nutrients.
Tips
Find a friend or relative who is interested in starting a vegan diet. Build a vegan support network to help you stick with your new diet. Share vegan resources, recipes and other information to ensure that your new diet is safe and healthy.
Warnings
As a vegan, you must be very careful to eat a balanced diet. Talk to your doctor before beginning your new diet to ensure that you are aware of the health risks associated with nutritional deficiencies, and go for regular check-ups so your doctor can identify any deficiencies as soon as they start. Ask for advice about supplements and dietary sources of important nutrients.