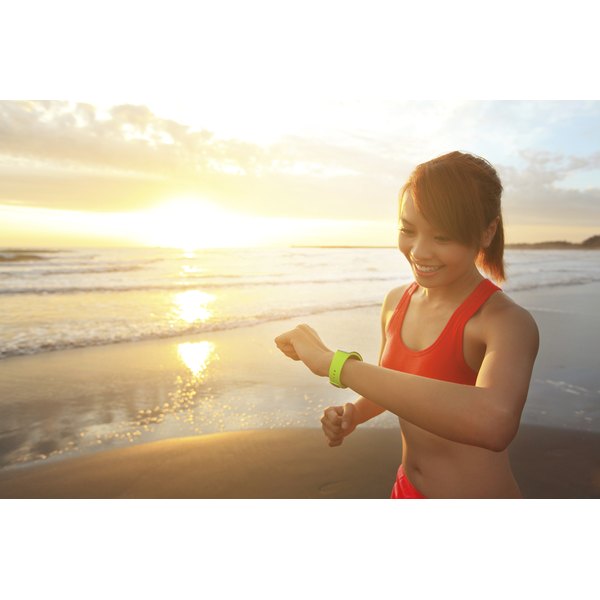 Fitness watches enable you to multitask by recording your workout time, measuring your heart rate, creating customized training programs and keeping all of this data in one location. A fitness watch is a portable, compact timekeeper that offers extras, such as calorie counters, for exercise enthusiasts, minimizing the need for extra gadgets. You can wear it on the road for a run, to the gym or even swimming (some models are waterproof). Some models offer features such as GPS, heart-rate monitors and training software.
Garmin Forerunner 405CX Heart Rate Monitor
This wearable (but not waterproof) watch is recommended by Outside Magazine's 2010 Winter Buying Guide, The Boston Globe (April 2008 issue) and chosen best in GPS & Navigation by editors for Amazon.com (2009). This fitness watch records distance, pace and (as an option to purchase) a flexible, wireless heart rate (HR) monitor. The Garmin Forerunner 405 CX saves workout data wirelessly to a computer. In addition, it has a calorie counter based on heart-rate. This fitness watch is lightweight and comes with a second wrist band option for smaller wrists. An advanced training feature enables you to race against a virtual partner and/or set up interval workouts. No fumbling for buttons with this watch--you simply tap the touch bezel to change screens (estimated 2009 average price $300).
Timex Ironman Road Trainer Heart Rate Monitor
Voted a top fitness watch by the editors of Trail Runner Magazine (2009), this fitness watch is a basic, less expensive model that offers a chest-strap heart-rate monitor. It's a good choice for runners on a budget. This watch features a 100-hour chronograph to record laps and total workout time, as well as a countdown timer and alarm. The chest strap HR monitor provides continuous readings, and, unlike the Garmin, this watch is water-resistant up to 100 m. Though it is easy to use and set up, the Timex Ironman Road Trainer does not track distance or pace, so serious athletes may may want to look for a piece that offers those features (estimated 2009 average price $100).
Tech4O Accelerator Runner RM1 (RW2)
Though not the most exciting nor feature-packed watch, the Tech4O Accelerator Runner RM is a good basic pick that offers versions for both men (RM1) and women (RW2 in pink). Like the Timex Ironman watch, it has a chronograph for timing laps as well as an internal accelerometer, which tracks pace and estimates distance. It is a slim, attractive, lightweight watch (not clunky). Though reported to be difficult and time consuming to set up, most owners have provided positive overall reviews online. Runners can track their distance (estimates are 95 percent accurate) without the expensive GPS feature. This particular watch does not include a HR monitor (estimated 2009 average price $50).