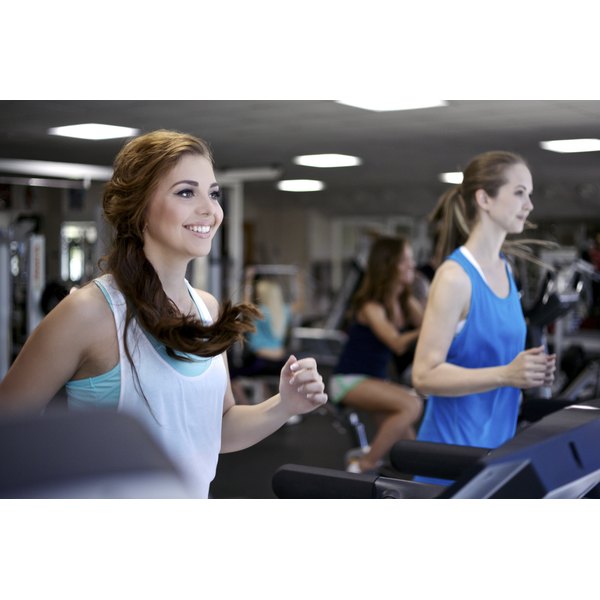 Low- or no-impact workouts are the best option for obese people, or those with a body mass index of greater than 30, because these workouts put the least amount of stress on the joints. Walking is a good option, although it does involve some impact. Obese individuals should choose treadmills that can bear the most weight, offer excellent stability and adequate cushioning. The best treadmills should be able to support 300 pounds.
Vision Fitness
Vision Fitness Treadmills won a "best buy" rating in the February 2009 issue of "Consumer Reports" magazine, and has been all-around top-rated in the treadmill category by such publications as "Runner's World." The T9200 comes in three versions: simple, deluxe and premier. The main features, such as belt size, cushioning and elevation, are the same with all versions. All Vision Fitness treadmills support up to 325 pounds. The deluxe and premier models have LED windows so you can monitor your progress and a dozen preset workout programs that include heart-rate management.
Precor
Precor treadmills are an industry leader both in and out of the health club. Rated among the top eight treadmills in the January 2008 issue of "Runner's World" magazine, these machines scored especially well for pace accuracy, stability and cushioning. Stability and cushioning are particularly important for obese exercisers. The most basic model, the Precor M9.33 Treadmill, boasts a dozen preset workouts, heart rate monitoring, 15 percent incline and maximum speed of 11 mph. It allows two users to store profiles. Precor treadmills come with 10-year manufacturer warranties on parts, lifetime on frames and welds, and one year for labor. The weight limit for this model is 300 pounds.
Landice L770
This treadmill is the largest and the most expensive of the three models. It's a powerful machine, offering a motor with 3 horsepower that delivers a gym-quality workout without overheating. The Landice L770 comes with a rust-free aluminum frame. Its solid body is strong enough to support a maximum weight of 400 pounds. It offers five customized workout programs, calorie goal programs and a LCD display with features like time, speed and distance. This machine comes with a standard heart rate monitoring system and wireless chest strap. The Landice offers the 12 mph maximum running speed, 15 percent incline and stable, smooth transitions. It has a lifetime warranty on frame and parts, and one year on labor.