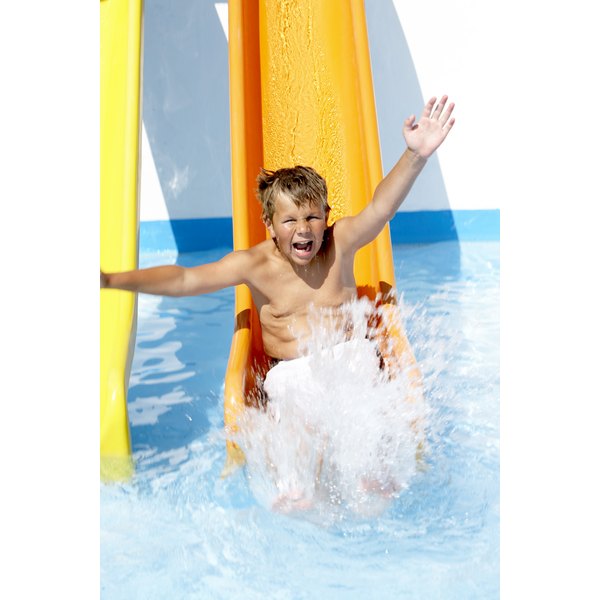 Wichita, nestled along the Arkansas River in central Kansas, is home to more than 384,000 people. This bustling city is the destination for more than 4 million visitors each year. If you live in or near Wichita or are planning a visit, you'll find plenty of things to do with your kids.
Animals
Take your kids for an adventure at Sedgwick County Zoo (scz.org). Make your way through each section of the zoo, including North America, the Jungle, Asia, Africa, Australia, South America and Cessna Penguin Cove. Your kids can get an up close look at an assortment of farm animals in the Children's Farms. Sign your kids up for the Kid's Club and attend special events at the zoo, like Easter Eggstravaganza and Wet-n-Wild Days. You can also visit Tanganyika Wildlife Park (twpark.com), where you'll find animals that you can directly interact with, like camels, red kangaroos, giraffes, goats, ring-tailed lemurs and tortoises.
Museums
Expose your children to some educational activities by visiting one of the Wichita area museums. The Kansas Aviation Museum (kansasaviationmuseum.org) features a variety of historical aircraft, like the KC 135E refueling tanker, Beech Starship and 1927 Laird Swallow. Learn about the airplanes, as well as the engines that allow them to take flight. Or, take your kids to Exploration Place (exploration.org), an interactive children's museum. You'll find exhibits like AgMagination, Birds in Focus, Bridging Art and Science and Exploring Our Only Home. Small children can play safely at the Tots' Spot, with learning toys and toddler activities. Attend special events like the Little Explorers Preschool Playgroup, summer camps and science fairs.
Nature Activities
Enjoy nature with your family by visiting Botanica Wichita (botanica.org). This facility has gorgeous gardens, like the Butterfly Garden, Butterfly/Pansy House and the Frank Smith Woodland Glade. Kids love the Downing Children's Garden, with all sorts of plants to encounter, a huge tree house, a Musical Maze and puppet shows. Special events take place throughout the year, including family fun fairs and nature programs for kids. Or, you can head over to the Great Plains Nature Center (gpnc.org) for some nature activities. Hike along the Chisholm Creek Park trail or enjoy the exhibits at The Koch Habitat Hall. Your whole family can participate in programs like story times, Little Nature Lovers, Creature Feature or field trips.
Amusement and Water Parks
Cool off on a hot Wichita summer day at one of the of the Greater Wichita YMCA water parks (ymcawichita.org). You'll find lazy rivers, speed slides, wave pools, water climbing walls, splash pads, water play structures and toddler play areas. You could also visit All Star Adventures (allstarwichita.com) for some family fun. Choose from mini-golf, go-karts, bumper boats, a kiddie coaster, carnival rides, a turbo slide, bumper cars and an arcade.