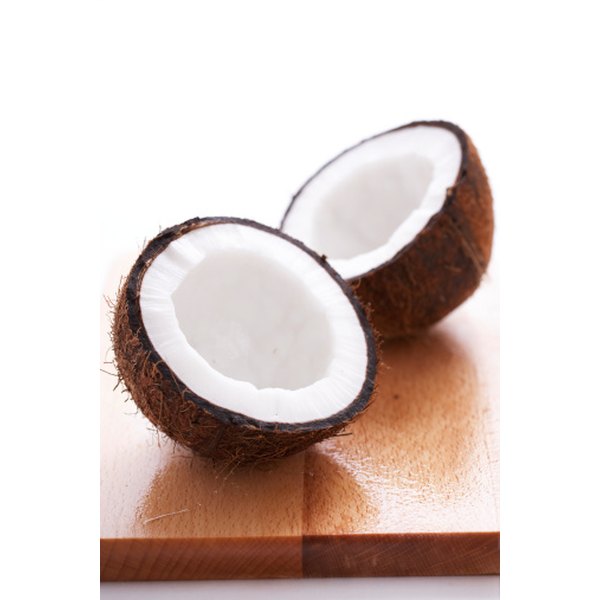 Coconut oil is a health food with exotic flavor and disease-prevention properties. Coconut oil contains high concentrations of lauric acid, a medium-chain saturated fatty acid that differs from saturated fats in meat and dairy. Lauric acid increases levels of both HDL cholesterol, the good cholesterol and LDL cholesterol, the bad cholesterol, but does not adversely affect the ratio of the two types of cholesterol. Consult your doctor on eating coconut oil.
Weight Loss
Obesity is a global health problem that affects people of all ages and is a risk factor for cardiovascular disease. Nearly two-thirds of the world's population live in countries where death from overweight and obesity exceeds death from underweight. Eating coconut oil can help you lose weight. Research by scientists at the Federal University of Alagoas in Maceio, Brazil, and published in the journal "Lipids" in July 2009 indicated that obese women taking dietary supplements containing coconut oil reduced their waistlines. The scientists also found that coconut oil does not cause abnormal blood levels of cholesterol and fats.
Inflammation
Inflammation is associated with many chronic diseases and conditions, including cardiovascular disease, diabetes, rheumatoid arthritis, colitis and pain. Coconut oil has anti-inflammatory properties that might help relieve pain and suffering. Research by scientists at Payap University in Chiang Mai, Thailand -- published in "Pharmaceutical Biology" in February 2010 -- found that virgin coconut oil has anti-inflammatory properties. The scientists also demonstrated that in rats, virgin coconut oil reduces pain and fever, symptoms associated with inflammatory conditions.
Healing Wounds
Wound healing is a process that involves repair of skin and tissues affected by injury or surgery. Coconut oil can enhance your healing ability. Research by scientists at the University of Kerala in Thiruvananthapuram, India -- published in "Skin Pharmacology and Physiology" in 2010 -- indicated that wounds in rats treated with virgin coconut oil heal much faster, including development of new blood vessels and increased proliferation of fibroblasts, a type of connective tissue cells in collagen.
Prostate Health
The prostate gland is an important part of the male body's reproductive system. Yet as men age, the prostate gland can become enlarged, making it difficult to urinate. Coconut oil might be an effective, natural treatment for men with benign prostatic hyperplasia. Research by scientists at the National Center for Scientific Research in Havana City, Cuba -- published in the "Journal of Pharmacy and Pharmacology" in July 2007 -- indicated that coconut oil in rats helped reduce both prostate weight and the ratio of prostate weight to body weight, which are markers of testosterone-induced prostatic hyperplasia.