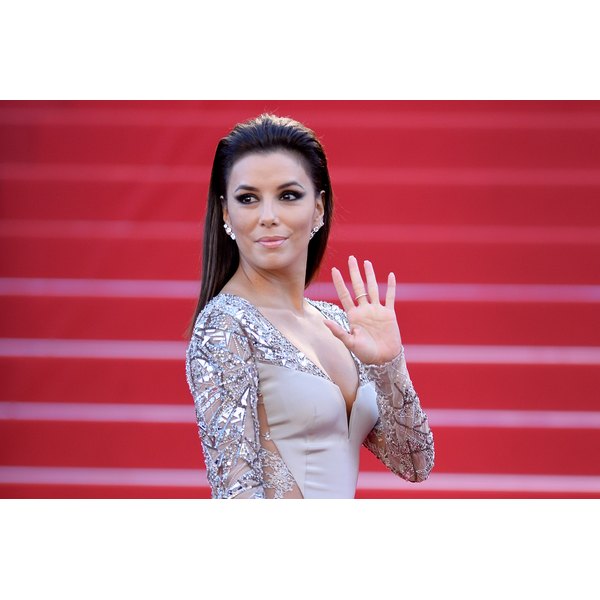 "Desperate Housewives" star Eva Longoria says two things are responsible for her trim, toned figure: a diet low in sugar and carbohydrates and an exercise routine monitored by a personal trainer. What works for Longoria, however, may not be the best -- or most affordable -- weight-loss strategy for you. Before making any significant changes in your eating habits or level of physical activity, talk to your doctor, especially if you have any chronic health problems or are on medication.
Diet While at Home
Longoria says she prefers to cook and eat her own organic food at home instead of eating out to avoid overeating or indulging in high-calorie treats, though she does allow herself one cheat day each week. For breakfast on a regular day, she might have egg whites and fruit or a serving of sugar-free cereal topped with fresh berries. Lunch could consist of grilled chicken breasts paired with spinach and avocado dressed with an olive oil vinaigrette, while chicken and brown rice or salmon and grilled asparagus could be dinner. Nuts like raw almonds, cottage cheese, vanilla yogurt, cucumber slices, fruit such as bananas and apples or celery spread with nut butter might be her snacks throughout the day.
Diet While Working
When she's busy working on set for a television show or movie, Longoria uses a food delivery service, to keep her diet under control without having to spend time in the kitchen. A full day of her ready-made meals might begin with a breakfast of an omelet filled with turkey and vegetables, served with fresh fruit. Her lunch entree could be sauteed chicken and peppers served with vegetables and a salad. Marinated grilled salmon paired with asparagus and a salad could be dinner, while Longoria's daily snacks could consist of yogurt or apples with cheese slices.
Typical Workout Schedule
According to Longoria, she works out first thing in the morning. On every day other than Wednesday, she begins with some aerobic exercises to raise her heart rate, then moves on to fast-paced circuit training for the remainder of her workout. She typically performs a high-cardio exercise like running on a treadmill for about five to 10 minutes before focusing on her legs, arms, abs, chest or back, doing 15 repetitions of each exercise and cycling through each three times. On Wednesdays, Longoria experiments with different activities, such as yoga or kickboxing.
How to Adapt Longoria's Regimen to Your Life
Longoria's emphasis on poultry, fish, eggs, fresh fruits and vegetables and nuts is in line with the U.S. Department of Agriculture's recommendations to eat less red meat, sugar and processed foods and more lean proteins, seafood and produce. However, her diet appears to fall far short when it comes to whole grains and calcium-rich dairy products. The USDA advises that a woman between 31 and 50 years old, like Longoria, should have approximately six 1-ounce servings of grains and 3 cups of low- or nonfat dairy products -- or a plant-milk equivalent -- each day. While you may not be able to afford a personal trainer, Longoria's exercise schedule can help you reach the amount of physical activity recommended by the Centers for Disease Control and Prevention. If you haven't exercised for awhile, ask your doctor for tips on easing into a program.