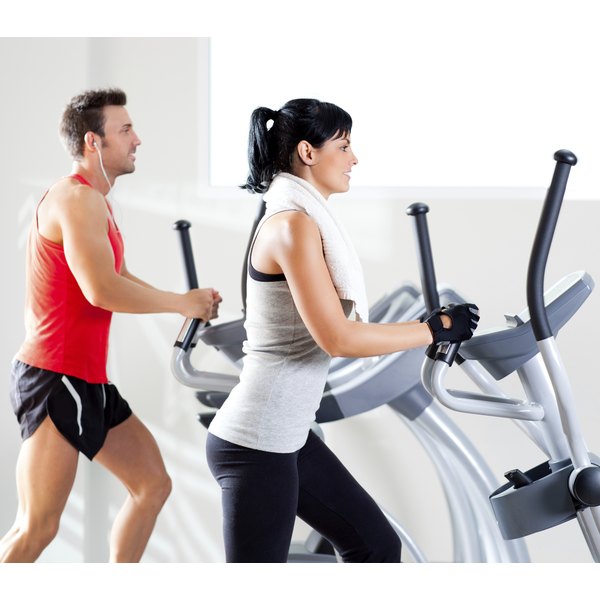 You don't have to spend thousands of dollars to get yourself a quality elliptical trainer. If $500 is your maximum amount to spend and you don't wish to purchase one of the many used ellipticals available, there are a few choices for new machines under $500 that are a good buy.
Eclipse 1100HR/A Elliptical Trainer
BestCovery lists the Eclipse 1100HR/A as the first on the "Best Elliptical Under $500" list. It is best for people who want to get in shape and are not necessarily looking for a lot of extra features that you would find on more expensive machines. The elliptical trainer is sturdy and has a smooth operation. Fitness Quest makes the Eclipse 1100 HR/A. It has 12 resistance levels and a 15-inch stride length. Other features include a reading rack and water bottle. You can use this machine if you weigh up to 275 lbs. One important feature of this model is its compact size. The machine is 41 inches long by 22.5 inches wide by 64 inches high.
ProForm 850 Elliptical with GameFit
The ProForm 850 Elliptical with GameFit costs $500, which is a great deal for an elliptical trainer not only bearing the well-respected ProForm name, but also one that allows you to play video games while you exercise. The games are called Fat Blocker and Calorie Destroyer. Even if video games aren't appealing to you, the ProForm 850 still gives you a good workout, according to AllEllipticals.com. There are 12 programs, a dock for your iPod, 12 resistance levels, a heart-rate monitor and an 18-inch stride length, all for a budget price.
ProForm 500 F Elliptical
The ProForm 500 F is another well-made ProForm machine. It has a fan, 10 programs, a heart-rate monitor and a 16-inch stride length. The programs are half focused on weight loss and half personal-trainer programs. You input a calorie goal for the weight-loss programs, and the elliptical automatically adjusts the resistance to meet your goal. The personal-training programs allow you to pick either a goal of improved performance, increased aerobic fitness or weight loss. The ProForm 500 F has a 275-lb. weight limit.
Proform 500 Folding Elliptical Trainer with Stride-Select
BestCovery includes the ProForm Folding Elliptical Trainer with Stride-Select on its best list of ellipticals under $500 as well, though you might have to shop around for that price. The ProForm folding treadmill is a best buy because it folds up for simple storage, has three different stride length options, a cooling fan and an MP3 player.