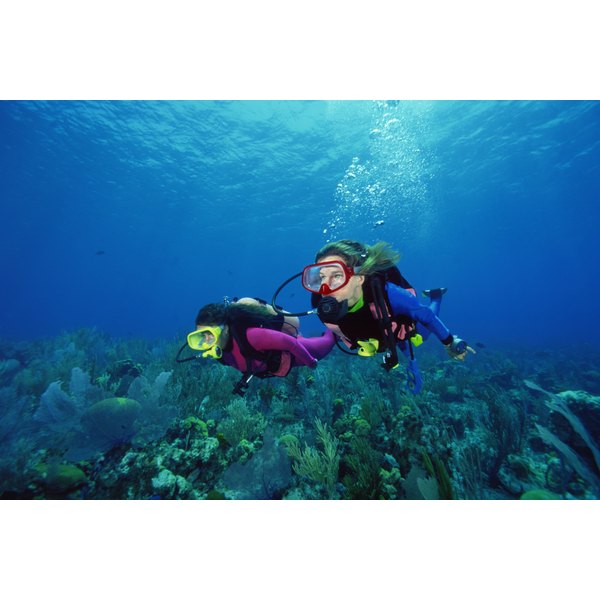 Because Navy divers venture into icy regions -- areas with the most severe conditions where equipment failure can result in death -- the U.S. Navy has the most stringent guidelines concerning the safety and use of cold-water regulators. Commercial manufacturers strive to pass the Navy's testing protocols and get on their list of approved cold-water regulators. Yet many off-the-shelf cold-water regulators fail to meet the Navy's standards. Given the high level of risk, use only the most robust regulators designed for cold-water diving.
The Dangers of Cold-Water Dives
Your scuba regulator is responsible for providing breathable air on demand from a metal cylinder filled with high-pressure air strapped to your back. According to John Clarke, the Scientific Director of the Navy Experimental Diving Unit, cold-water regulators do buckle on occasion due to free-flow. The uncontrollable release of air out of your regulator -- free-flow -- typically occurs when ice forms around the regulator's first stage, which is responsible for lowering the cylinder's air pressure and routing it to the hose that leads to your mouthpiece. If your air reserves are low, this situation can be life-threatening.
Best and Most Rigorous Testing
While there are groups of seasoned scuba divers who evaluate cold-water regulators, the Navy has a dedicated team and advanced equipment to test regulators under the harshest conditions -- war. The U.S. Navy's Experimental Diving Unit has developed a rigorous machine-based testing protocol for cold-water regulators, according to Clarke. This unit focuses on preventing free-flow under polar ice. Their Florida-based facility uses hyperbaric chambers for unmanned testing of regulators in extreme conditions. In comparison to regulators for warm water, which are typically evaluated on the basis of breathing performance, dryness and purge action, the biggest problem with cold-water regulators is that they turn into a block of ice and free-flow before the 10-minute mark during tests in harsh conditions.
Best-Performing Cold-Water Regulators
In 2010, the Navy Experimental Diving Unit released a report on commercial off-the-shelf cold-water regulators. The three-phased evaluation included testing for freeze-up at temperatures ranging from 28 to 30 degrees Fahrenheit and breathing performance. After testing, the Navy recommended only two regulators: the Swedish-made Poseidon Xstream Deep Mk3 and the modified combination regulator Mares Proton Ice Extreme V32 first stage coupled with the Mares Abyss second-stage. As an example, Clarke notes that a Norwegian biologist and his team use only Poseidon regulators for dives in the Arctic.
The Issue of Maintenance
A cold-water regulator with wear and tear or that hasn't undergone regular maintenance can pose a serious risk to divers. Functioning properly for nine dives, a regulator can fail on the 10th, according to Clarke. If you purchase a Poseidon regulator, you can easily find professional maintenance in North America, Northern Europe and Canada, according to Cold Water Diver. Once completing a dive, you should rinse your regulator and scuba equipment with fresh water and store them properly after drying. If you're diving in less extreme conditions, ensure that your scuba equipment suits the depths and temperatures you aim to dive in before you take the plunge.