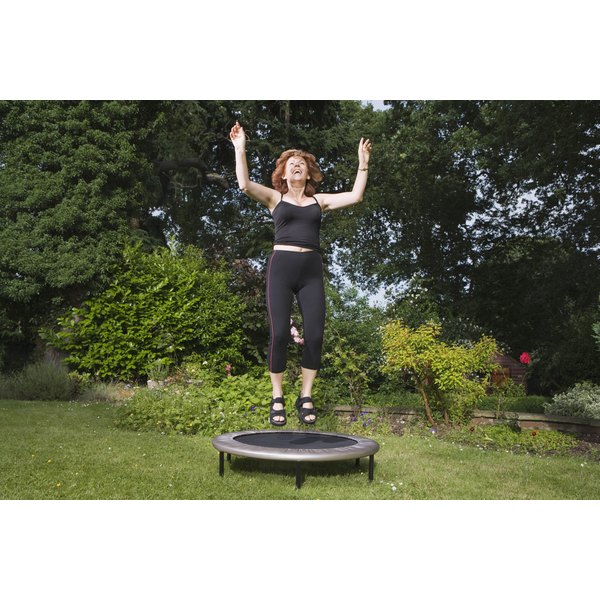 Rebounding is a popular form of exercise, and Bellicon and Cellerciser are both high-quality rebounders, but they are not identical. Depending on your weight, resources and health needs, one may be a better choice than the other. A little information will enable you to choose the best rebounder for you.
Frame and Mat Construction
Both the Bellicon rebounder and the Cellerciser have frames made from solid steel rather than brittle aluminum or chrome. Both rebounders also have mats made from high-quality polypropylene rather than nylon or canvas, making them resistant to mildew, rot and deterioration due to exposure to the elements, according to company websites.
Springs and Bounce Firmness
Bellicon and Cellerciser are soft-bounce rebounders, which means they designed to provide smooth acceleration and deceleration, reducing stress on your skeleton and helping you avoid injuries. However, the two brands achieve this in different ways: the Cellerciser rebounder uses tapered "tripple tier" springs, while the Bellicon employs high-quality elastic bands.
Weight Rating and Accessories
The Cellerciser rebounder is rated for individuals weighing up to 300 lbs., while the Bellicon has a 400-lb. maximum weight rating, making both rebounders good choices for heavier individuals. However, if you don't want to spend extra on accessories, consider the Cellerciser, which comes with an instructional DVD, carrying case and stability bar. Bellicon offers these accessories, but you'll have to purchase them separately.
Pricing and Country of Origin
The Cellerciser rebounder is a better choice if you have limited resources. As of early 2011, the Cellerciser rebounder, purchased directly from the manufacturer, retailed for $325, while the Bellicon's price was $679. The Cellerciser is manufactured in Taiwan, while the Bellicon is made in Germany.
Pros and Cons
Each type of rebounder has advantages and disadvantages. If you live in an apartment or may need to exercise while other members of your household sleep, consider the Bellicon; its elastic-band construction does not squeak the way springs do. However, if space is at a premium, you may prefer the Cellerciser, which has fold-down legs and features as well as a folding frame. Bellicon rebounder frames do not fold, and you'll have to pay an additional $50 for folding legs.