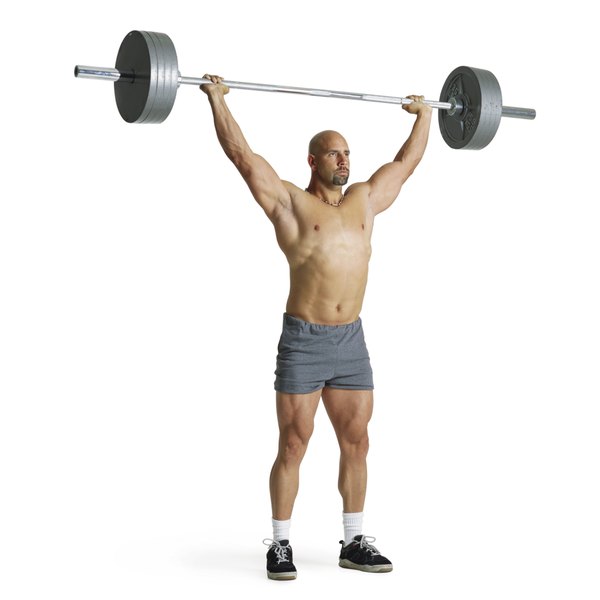 When it comes to lifting weights, not all weight sets are created equal. There are two types of weight bars and weights, standard and Olympic-size weights. The weight, design and size differ between these two types of weight sets. Olympic weights are typically used by weightlifters (the actual sport of weightlifting), bodybuilders, and athletes. Indeed, the bars are named for their suitability to Olympic-style lifts. They are found in many gyms or health clubs frequented by bodybuilders, fitness enthusiasts, and athletes.
One Size Doesn't Fit All
Olympic bars are larger in diameter than standard-size barbells. The ends of the bar that hold the weights are nearly 2 inches in diameter compared to standard-size bars that are only 1 inch in diameter. Because of this, the holes in the center of the Olympic weight plates are larger. Therefore, you can only use Olympic-size weight plates on Olympic bars. These can be purchased as a set to ensure compatibility, but individual weights and bars are typically labeled to ensure you buy the proper weights to fit your bar. Olympic bars are usually 7 feet long for use with power racks and Olympic width bench racks. Standard bars are usually between 5 and 6 feet, so it is important to also make sure your rack and weight set sizes match.
Heavy-Duty Design
The design of Olympic weightlifting bars makes them very stable. The ends of the bars are both thicker and heavier, reducing the likelihood that they will tip over while resting on the rack. The middle section that your hands grip is also thicker. The bars have revolving ends to prevent torque when performing lifts that require the bar to rotate quickly. In addition, Olympic weight plates are typically designed with open sections around the edge for your hands to grip, making changing heavy plates easier.
Weigh It Out
Olympic bars are weighted. They typically weight 45 pounds, but some bars labeled as "Olympic" bars can range between 35 to 45 pounds. This adds more to your lifts. So the weight of the bar is also counted when lifting along with the weight of the plates, which isn't the case with standard weights using a standard bar. Olympic weight bars also allow you to lift heavier weight. They can handle a heavier load than the 200 pound maximum that usually limits standard bars. A good Olympic bar will usually be able to handle more weight than you could lift.
Considerations
Olympic weightlifting bars and weight plates are usually more expensive, so price may need to be considered if deciding which type of weights to purchase. Since the bar itself is 45 pounds, women or beginners may find it difficult to use Olympic bars. Finally, if you are considering purchasing Olympic weights or an Olympic bar, evaluate any weights you currently have. You can not use standard weights with an Olympic bar, so consider compatibility with your current set up.