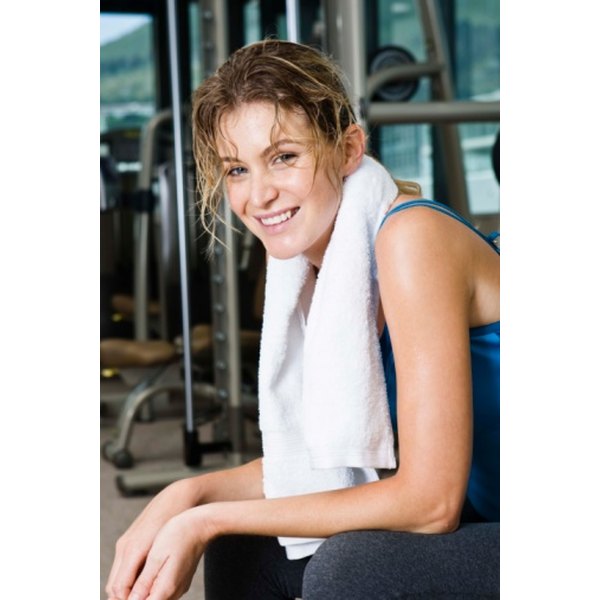 Women effectively lose weight and tone muscles by following a program that combines healthy dietary habits and exercise. Incorporate cardiovascular exercise, resistance and cross training into your week to maintain lean muscle mass. The more muscle you build, the more calories you burn.
Considerations for Diet
The food that you choose has an impact on your health and weight. Eating too much of any food will increase your body fat and your chances of developing heart disease, diabetes and cancer. Consuming 500 to 1,000 calories less a day will result in weight-loss. Eat appropriate portions of whole foods that provide you with high-quality protein, complex carbohydrates, unsaturated fats, vitamins, minerals and other essential nutrients. Eat every two to four hours, for a total of five or six meals a day. Eating frequent meals will supply your growing muscles with a steady supply of fuels. This will also keep your metabolism working and burning more calories.
Cardiovascular Fitness
Perform some form of cardiovascular exercise three to five days a week for 30 minutes at a time. Cardiovascular fitness strengthens your heart and lungs, reduces body fat and improves your body's ability to use glucose for energy. Examples of cardiovascular fitness include walking, running, swimming, rowing, skiing, dancing and jumping rope. If you have been completely inactive, slowly phase in cardio activity and consult with a doctor.
Resistance Training
Many women stay away from weights out of a fear of bulking up or looking manly. But, since women don't have the testosterone needed for large muscles; adding muscle can actually aid in weight-loss. Incorporate resistance training two or three times a week for at least 20 to 30 minutes. Resistance training increases muscular strength and endurance, boosts your energy and metabolism, and improves flexibility and balance. Lifting weight will firm, tone and shape your body.
Cross-Training
Consider cross-training your body with yoga, Pilates, tai chi or other activities that improve flexibility and balance. Cross-training activities improve your performance and movement in cardiovascular fitness and strength training. The slow, controlled forms of movements also improve your ability to cope with stress. Stress releases a hormone called cortisol, which increases your risk of weight gain and a weakened immune system. Controlling cortisol levels through yoga and other forms of cross-training is vital for a functioning immune system and weight maintenance.