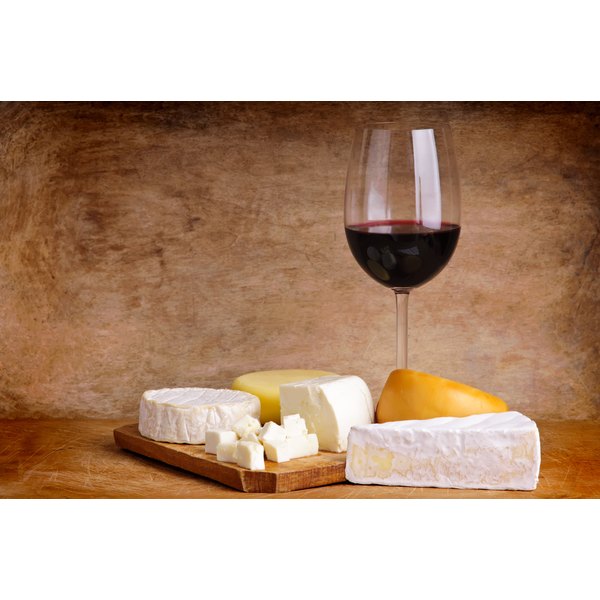 Carine Roitfeld, the svelte editor of "French Vogue", offers diet advice that seems to defy all expert advice: eat cheese, drink wine, smoke and avoid exercise. Although her diet includes some serious health risks, it does contain a nibble or two of potential truth. And you needn't be French or a fashion icon to make the sane parts of Roitfeld's diet work for you.
Cheese and Weight Loss
Following Reitfeld's suggestion to eat more cheese could help you lose weight, according to a study led by Wendy Chan She Ping Delfos, a researcher at Curtin University of Technology in Perth, England. In the study, volunteers who ate five servings of dairy products – including full-fat cheese – lost more weight than those whose diets included the standard three servings of dairy. Delfos said the high levels of calcium, protein and vitamin D helps you shed abdominal fat and also lowers your blood pressure.
Calcium
The calcium in cheese and other dairy products help boost your metabolism, signaling your body to burn rather than store fat, according to Michael Zemel, a researcher at the University of Tennessee. Zemel has conducted several studies about the role of calcium in metabolism. In one study, presented at an Experimental Biology meeting in San Diego, Zemel had some participants consume 1,100 milligrams of calcium daily and others 500 milligrams. The people whose diets included the higher amounts of calcium – obtained from three servings of yogurt – lost 22 percent more weight and 61 percent more body fat than those whose diets included less calcium. All participants in Zemel's 12-week trial also reduced their food intake by 500 calories a day.
Exercise
Despite Roitfeld's expressed aversion to exercise, she probably spends more time in motion than many people who regularly go to the gym. Paris is a walking town, and French women burn a lot of calories walking to work, to restaurants, to markets, to cafes and to boutiques. If Roitfeld walked just 60 minutes a day, she would burn more than 1,900 calories per week. This is more than twice as many calories as you would expend attending an indoor cycling class for a half hour three times a week.
Red Wine
Drinking red wine may also speed your metabolism. The grapes in red wine contain antioxidants called flavonoids that are similar to those found in green tea. And flavonoids proved successful in producing weight loss in more than 15 clinical trials, according to Craig Coleman, associate professor of pharmacy practice at the University of Connecticut, who reviewed the scientific studies. You do not have to drink wine to benefit from the flavonoids, you could simply eat grapes. Most of the antioxidants in grapes are stored in the skin and seeds of the fruit.
Smoking
You certainly shouldn't follow Roitfeld's diet tip about smoking. Aside from the possibly deadly side effects of the habit, smoking will not necessarily help you lose weight. In a study that tracked the health of nearly 1,300 Montreal teenagers for five years, teen females who smoked were no more likely than non-smokers to lose weight. The study, funded by the Canadian Cancer Society, did find, however, that smoking stunted the growth of teenage boys. Jennifer O'Laughlin, lead researcher at the University of Montreal, said she was surprised by the results because she, like most people, took for granted the link between smoking and weight control.