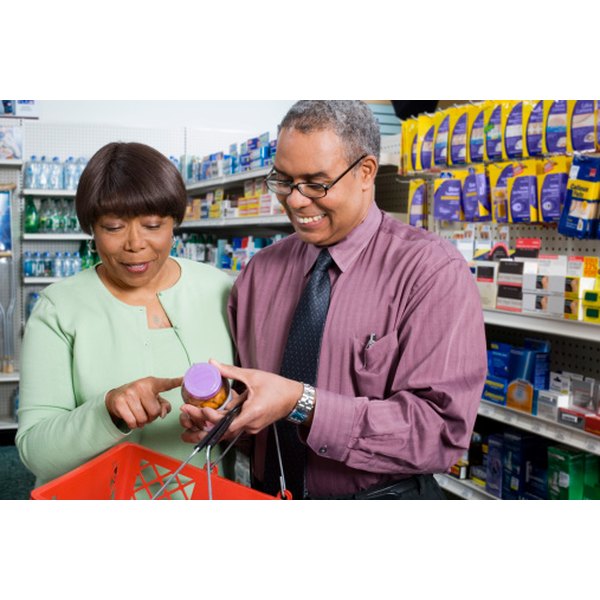 A common ingredient in foods such as marshmallows, yogurt and gummy candy, gelatin is also used to make hard and soft capsules for dietary supplements. Gelatin is highly digestible, according to the Gelatin Manufacturers Institute of America, and can be used to form a protective coating for medicine or supplements. Nature Made does use gelatin in some of its products.
Significance
Gelatin in dietary supplements is a concern for individuals who follow a vegan or vegetarian diet because it is an animal-derived product. The Gelatin Manufacturers Institute of American explains that gelatin is manufactured from collagen taken from animal bones, skin and connective tissue. Cattle hides and bones and frozen pigskins are common sources of the collagen used to make gelatin.
The Facts
Nature Made distributes multivitamin supplements and single-vitamin products, as well as herbal supplements, minerals and products aimed at improving heart health, such as fish oil, garlic and flaxseed-oil supplements. The ingredients in Nature Made vitamins vary among products. While some of Nature Made's products do contain gelatin, certain supplements distributed by the company are gelatin-free.
Considerations
Supplement distributors are required by law to disclose ingredients such as gelatin on the product's ingredient label, according to the FDA. Nature Made reveals that the gelatin used in its products is bovine-free, indicating that the gelatin does not come from cattle. Gelatin in Nature Made products comes primarily from pork sources, according to the product's website.
Identification
Nature Made vitamins that do contain gelatin include: Vitamin A, Super B-Complex, Vitamin E, Multi for Her and Vitamin E Natural. The brand's Vitamin B-12 Liquid Softgel, Vitamin D Liquid Softgel and Multi Daily also contain gelatin. The Multi for Her and the Multi Daily contain gelatin derived from fish rather than pork, according to the labels.
Exceptions
As of 2010, Nature Made products that are gelatin-free include Vitamin B-1, Vitamin D, Vitamin C and Vitamin B-12. The Multi for Him is also gelatin-free, with the exception of the soft-gel variety. Unlike the Super-B Complex, the regular B-Complex vitamin is gelatin-free. Since product ingredients may change, check the label to determine whether gelatin is an ingredient in a particular Nature Made vitamin product.