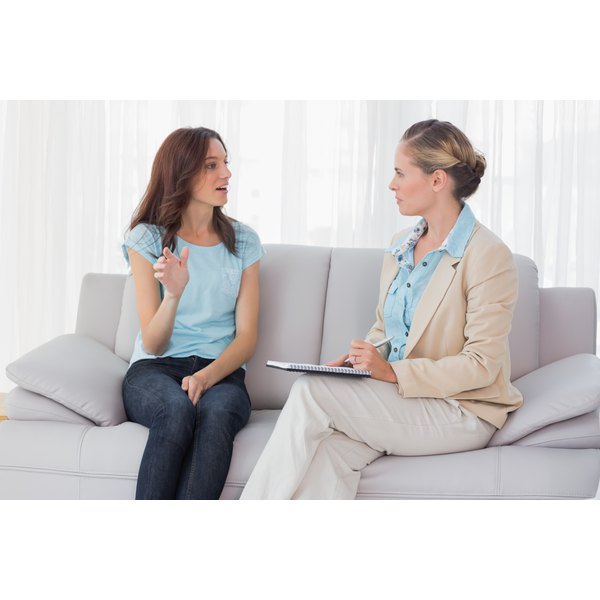 People who have a passion for helping others achieve fitness, diet and weight loss goals, often make a career in weight loss counseling. A weight-loss counselor helps individuals track, achieve and maintain weight loss by monitoring exercise, creating sensible diet plans and providing support for clients. To be a weight-loss counselor, you need to have certain education and training to make it possible for you to help your clients live a healthier lifestyle.
Receive training in nutrition and personal training. A weight-loss counselor can come from a variety of educational backgrounds, but as a rule of thumb, education in nutrition and exercise physiology or personal training is a must. The more health, diet and fitness-related education you have, the more services you can offer to your clients for a better rounded experience. Many colleges and universities offer exercise, wellness, nutrition and training programs.

Register for certification through an association such as the National Association of Weight Management Counselors, the American Council on Exercise or the Cooper Institute. Weight-loss counselors do not need any sort of certification to practice privately or with commercial gyms, but certification can present you as a more credible counselor. Some commercial weight-loss companies, including Jenny Craig and Weight Watchers, work directly with the Cooper Institute and will only hire counselors who complete the certification process.

Contact local gyms, fitness clubs and weight-loss centers to procure a job as a weight-loss counselor. You can also offer your services privately instead of becoming affiliated with a different company. Generally speaking, commercial weight-loss centers and gyms will have stricter guidelines and requirements when it comes to hiring weight-loss counselors.

Define the services that you'll offer as a weight-loss counselor and your pricing. If you're working with a commercial weight-loss company, you'll likely be a salaried employee and won't need to define your pricing and services. If you're working on your own, taking on a few practice clients can help you simulate your procedure and decide how much time and money goes into helping a client achieve their goals. You may want to offer things like an initial consultation and weigh-in, meal plans, exercise plans, weekly weigh-ins and rewards for weight loss.

Market yourself where you know your services will be valued if you're opening your own weight-loss counseling business. Fliers at the gym or health food store can help you gain exposure among those who would likely be your clientele. Or offer an unaffiliated gym or club referral bonuses for sending clients your way so you can build your business.