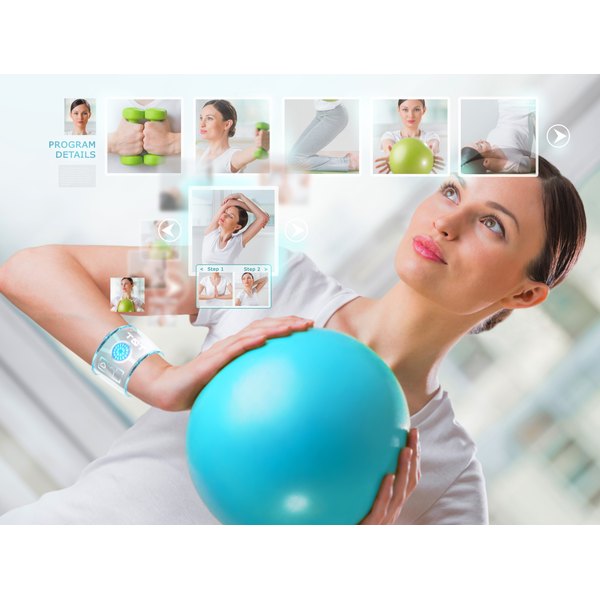 You can complete fitness and nutrition courses online. These courses can enhance your control of the learning process and let you complete work and exams at your own pace. Online courses let you complete your studies while holding onto your job. Fitness and nutrition courses may have interactive elements that let you connect directly with instructors and other students. Onlinecourses.com suggests that online fitness and nutrition courses may cost less than traditional courses.
Features
Online fitness and nutrition courses may include hardcopy materials that you use at home. An institution that provides these courses may let you contact instructors online or by phone if you need assistance for completing assignments or preparing for exams. You may submit work and check your grades with online tools and interfaces.
Requirements and Considerations
You must have reliable access to a computer and with an internet connection to participate in online fitness and nutrition courses. You should have a stable internet connection at your home or at a location that provides regular and reliable internet access. You must also have an email account. Onlinecollegescourses.com recommends online fitness and nutrition courses if you enjoy text-based learning, because online courses are often reading intensive.
Material
Online fitness and nutrition courses may cover topics like general wellness, health, rest and motivation. Your course may review elements of body composition and designing individualized training regimens. These courses may teach you which foods provide a rich source of particularly nutrients like protein, carbohydrates, fats and cholesterol. You may learn how your body uses these nutrients and how to maximize fitness gains by matching specific foods with particular fitness activities.
Accreditation
Enroll in online fitness and nutrition courses provided by educational institutions that have solid accreditation. According to Ed.gov, accreditation helps ensure the quality and recognition of your course. The United States Department of Education evaluates and approves educational agencies that accredit educational institutions. Verify that the institution providing your online fitness and nutrition course is accredited by an agency approved by the United States Department of Education. Employers and other educational institutions may not recognize courses provided by non-accredited intuitions or courses accredited by unapproved agencies.
Continuing Education
According to the U.S. Department of Labor, educational institutions that award certificates for fitness and nutrition professionals usually require recertification every one or two years. Certifying institutions may provide you with fitness and nutrition continuing education courses online. Completing these courses helps you earn continuing education credits or CECs that are required for recertification.