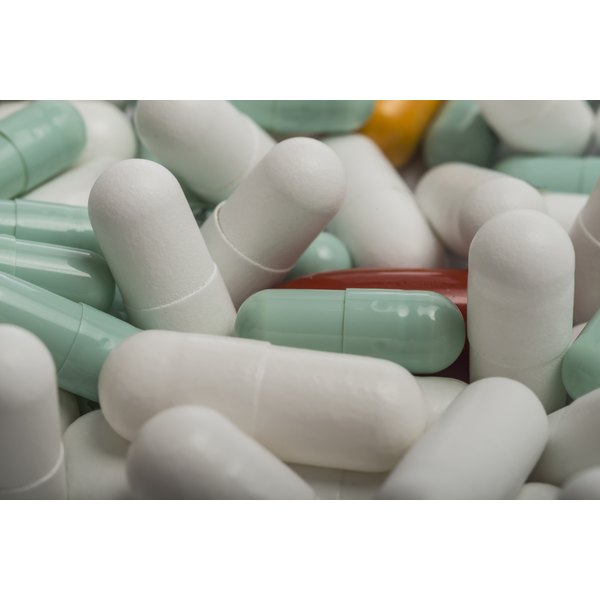 Natural supplement companies provide you with vitamins and minerals in a variety of forms. Both Life Force and Nature's Sunshine make a commitment to producing high quality products for general and specific dietary needs. Nature's Sunshine offers a wider selection of products, from capsules to liquids, while Life Force produces mostly liquid supplements and powders. Neither companies products are approved by the FDA and are not guaranteed to produce results. Talk to your doctor before trying any new supplementation.
Nature's Sunshine
Nature's Sunshine began encapsulating herbs in 1972, growing a small, family business into a large, international natural product distributor. Nature's Sunshine offers a wide array of vitamins and minerals, amino acids, herbs, probiotics and other types of supplements. The company performs a variety of tests to ensure its products meet quality standards. In addition to ordering products, you can also become a member and distribute Nature's Sunshine products on your own.
Life Force International
Life Force International was formed in 1996, based on the effects of a mixture of sea vegetables and aloe vera. From this mixture, its signature product, Body Balance, was created. Now with offices in New Zealand, Australia and Canada, Lifeforce International is becoming known for its quality products. The company guarantees its products' potency; it independently tests each raw ingredient and batch of products to ensure quality and purity and produce them at a good manufacturing practice, GMP, certified facility. It also has a commitment to sustainability; packaging includes plastic made from corn, and all product containers are recyclable.
Nature's Sunshine Products
Nature's Sunshine supplements are produced in a variety of forms. It offers liquid products, such as Thai-Go, traditional Chinese medicine herb blends, cold and flu lozenges, drink mixes and chewable supplements. The company also manufactures homeopathic tinctures and essential oils as well as home care products.
Life Force International Products
Life Force International offers most of its products in a liquid form. The company also manufactures powder mixes, such as its Vitali-C Plus and TrueGreens, which provide antioxidants and other vitamins. An herbal body wrap is also listed on its website, which is purportedly used to facilitate detoxification through your skin. You can find colloidal silver products, bone support and even products to promote sleep.
Comparisons
Nature's Sunshine offers more products than does Life Force International, although both provide individual products and products designed to be used together to promote the health of a specific body system. You can become a member to receive discounts and distribute their products. The companies also offer a 90-day money-back guarantee. Although Life Force International provides fewer products, its state-of-the-art, GMP certified facility and more rigorous product testing ensure high quality supplements, and liquid vitamins are easier to take. It offers a 45 day money-back guarantee.