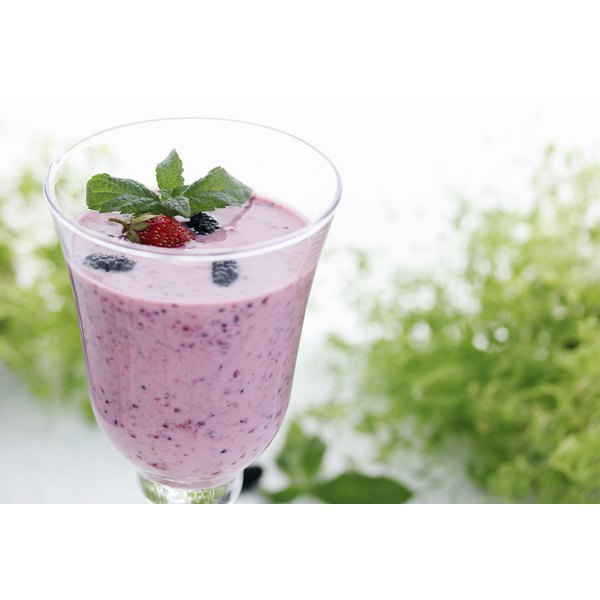 Elevated blood sugar in people with diabetes can lead to serious complications, including kidney disease, nerve damage and blindness. Losing weight can improve blood sugar and significantly reduce your risk of complications, according to the American Diabetes Association. Meal replacement supplements have been shown to be an effective means of promoting weight loss in people with diabetes. Consult with your doctor if you are considering a meal replacement program for weight loss.
Glucerna
Glucerna is a meal replacement supplement specifically designed for people with diabetes by the makers of Ensure products. Its special blend of carbohydrates takes your body longer to digest, allowing for a slower release of sugar into the bloodstream. Glucerna can be found at most retail grocery stores and pharmacies. It comes in a variety of flavors, including vanilla, chocolate and butter pecan, and each 8 ounces of serving contains 200 calories, 10 grams of protein and 5 grams of dietary fiber. As a weight loss supplement, Glucerna can replace one to two meals a day. Glucerna also offers meal replacement snack bars in addition to the shakes. Each bar contains 150 calories, 6 grams of protein and 1 grams of dietary fiber.
Boost Glucose Control
Boost Glucose Control is another example of a meal replacement supplement for people with diabetes. According to the website, diabetics who use boost as a meal replacement supplement have better blood sugar control. Each 8 ounce serving of Boost Glucose Control contains 190 calories, 16 grams of protein and 3 grams of dietary fiber, and also meets 25 percent of most of your daily vitamin and mineral needs. Drink one to two Boost Glucose Control shakes in place of one to two meals a day for weight loss. Boost Glucose Control can also be found at most supermarkets and pharmacies.
Nutren Glytrol
Nutren Glytrol is a diabetic meal replacement supplement made by Nestle Nutrition. It is higher in calories than the Glucerna and Boost Glucose Control, but will still produce a weight loss when used as a meal replacement supplement. Each container of Nutren Glytrol contains 250 calories, 11 grams of protein and 3 grams of dietary fiber. Its unique blend of carbohydrates allows for improved blood sugar control, according to the Nestle Nutrition website. Each serving also contains 2.5 grams of soluble fiber. Soluble fiber helps to lower blood cholesterol levels. For weight loss, drink one to two containers of Nutren Glytrol in place of a regular meal. Nutren Glytrol cannot be found at retail stores, but can be ordered through the Nestle Nutrition website or through a local distributor.
Medifast Shake
Medifast is a very low-calorie liquid weight loss program that has been shown to help promote weight loss in people with diabetes. On the Medifast program, you drink five Medifast shakes a day and eat one meal consisting of a lean protein and a nonstarchy vegetable. Each shake contains 90 calories and 11 grams of protein. Because it is such a low-calorie diet, you should consult with your physician before starting the program.