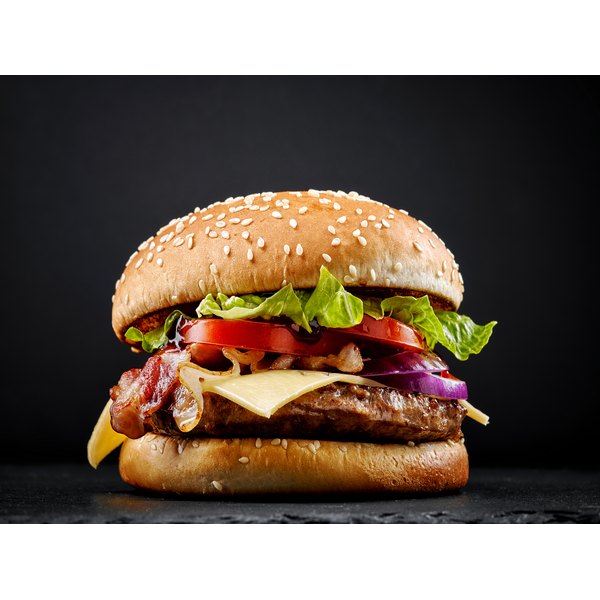 Many low-carb diets advocate eating hamburgers without the bun to avoid the carbohydrates from all that bread. However, some hamburger buns bring nutrition with them to the table. Others are less nutritious. Although there are hundreds of styles and brands, three basic types offer a representative sample of what's available.
Serving Size and Calories
LIVESTRONG's food database MyPlate provides information for two different styles of bun: enriched white bread and whole wheat. In both cases, the serving size is one bun.
The enriched white buns have from 70 to 140 calories per serving, while a whole wheat hamburger bun contains from 130 to 210 calories. While the calories may be slightly higher in a whole wheat bun, they have more health benefits than an enriched white bread bun.
Carbohydrates
When it comes to carbohydrates, enriched white bread buns contain from 16 to 28 grams per bun, with 0.5 to three grams of dietary fiber and one to four grams of sugar.
Whole wheat buns deliver 22 to 39 grams of carbohydrates, with three to six grams of dietary fiber and three to six grams of sugar. White breads use refined grains, meaning the energy stored in their carbohydrates acts much more like sugar than like the healthful, complex carbohydrates in whole wheat buns.
Fats
An enriched white hamburger bun contains from zero to 1.5 grams of fat. Whole wheat buns contain one to three grams of fat, including zero to 0.5 grams of saturated fat.
Protein
An enriched white hamburger bun has three to four grams of protein. The whole wheat bun has seven to nine grams per serving. Because these come from wheat flower, they are incomplete proteins. They contain only some of the amino acids your body needs for optimum tissue health. Note that some enriched breads are enriched with soy protein, which is a complete protein.
More About MyPlate
The free LIVESTRONG MyPlate calorie tracker app for iPhone and Android has helped millions of people lose weight the healthy way — by getting support from an active community as they track their eating and exercise. Consistently a top-rated app, MyPlate offers the latest technology in an easy-to-use tool that includes millions of foods and recipes, 5-minute in-app workouts and a robust support community.