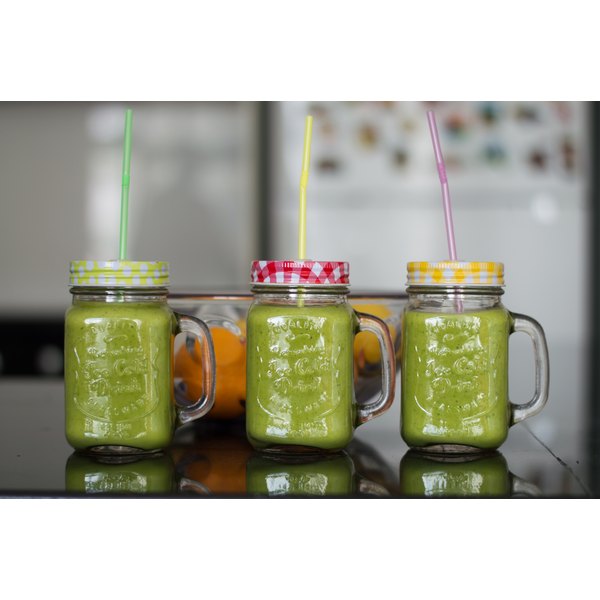 Natural protein shakes may help to support a healthy diet without subjecting your body to the artificial flavors, colors, sweeteners, preservatives and vitamins present in some supplements. Protein shakes containing whey, casein, egg and soy can support fat burning and muscle building. Multivitamins may support overall health and wellness and supply optimal amounts of nutrients to protect the body from disease. If your multivitamin uses the word isolates on the label, that means the contents are the synthetic form of whole foods, according to Organic Consumers Association. Consult with your doctor before taking any protein or vitamins supplements.
Jay Robb's Whey Protein
Jay Robb's Whey Protein contains 25 grams of cross-flow microfiltered whey protein isolate per serving and mixes instantly, providing a convenient source of supplemental dietary protein. This product contains no artificial sweeteners like aspartame, acesulfame K or sucralose. Instead, it contains a small amount of the natural herbal sweetener known as stevia. Available flavors include unflavored, vanilla, chocolate, strawberry, pina colada and tropical dreamsicle. Jay Robb also makes egg white and brown rice protein as alternatives to whey.
Optimum Nutrition's Natural Whey
Optimum Nutrition's 100% Natural Whey contains no artificial flavors, colors or sweeteners. The primary source of proteins come from whey isolates, supported by additional whey concentrate and hydrolyzed whey peptides. Each serving contains more than five grams of branched-chain amino acids and over four grams of glutamine and its precursors. Each 24 gram serving of protein contains only 5 carbohydrates and is sweetened with fructose and stevia. Available flavors include natural chocolate, vanilla and strawberry. Optimum Nutrition also offers natural egg, casein and protein blends as alternatives.
Now Whey
Now's Whey Protein contains no artificial ingredients and it is ion-exchanged and microfiltered. This 26 gram protein blend combines the three highest quality whey proteins, according to Now, including concentrates, isolates and hydrolysates. Hydrolyzed proteins or hydrolysates have been enzymatically processed for better digestion. In addition, Now's protein contains added glutamine, which can support muscle recovery and immune health, according to the October 2008 "Journal of Nutrition."
Nature's Way Alive
A natural whole-food multivitamin can give you a nutritional insurance policy to make sure that you get all of the vitamins and minerals needed to boost your immune system, protect you from numerous ailments and improve your overall health, according to a report on the Organic Consumer's Association website. Nature's Way Alive contains vitamins, minerals, enzymes, amino acids, herbs and essential fatty acids to support and compliment your diet. Since these nutrients come from whole food sources, Nature's Way claim that they absorb and assimilate more readily in the human body. They recommend taking three tablets daily with meals.
Garden of Life Vitamin Code
Garden of Life's Vitamin Code multivitamins claim to promote optimal digestion, heart health and both mental and physical energy. Every vitamin requires certain co-factors or enzymes to be absorbed, which is the reason the body needs food sources of vitamins, says Garden of Life. Both the men's and women's products contain all of these natural phyto-nutrients for proper vitamin assimilation. The women's formula contains extra ingredients for breast health, while the men's product has nutrients for prostate support. They recommend four caps daily, split into 2-capsule servings with separate meals.