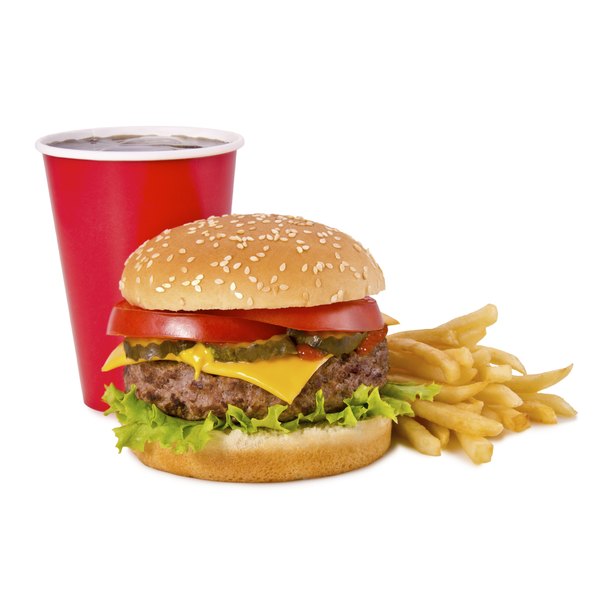 If you feel guilty every time you pull up to the Jack in the Box drive-through, learn the facts about your favorite fast foods. You don't have to completely cut out fast food in order to maintain a healthy diet, according to MayoClinic.com in the article "Fast Food: 5 Ways to Healthier Meals." Eat fast food only occasionally and choose wiser options at Jack in the box to maintain healthy eating habits.
History
The first Jack in the Box restaurant was opened by Robert O. Peterson in San Diego, according to the Jack in the Box Corporate Profile. In 1969, Jack in the Box was the first fast food restaurant to offer a breakfast sandwich, called the Breakfast Jack. In 2007, Jack in the box was the first fast food restaurant to offer a 100-percent sirloin burger, according to the Jack in the Box official website.
Types
Jack in the Box's meal options include breakfast, salads, burgers, chicken and fish, teriyaki bowls and grilled sandwiches, snacks and sides, shakes and dessert. The food item containing the most calories on the menu is the Sirloin Cheeseburger with Bacon, with 960 calories, 64 g of fat and 20 g of saturated fat. The drink containing the most calories is the 24-ounce Chocolate Shake with Whipped Topping, containing 1,120 calories, 55 g of fat and 37 g of saturated fat. The item with the lowest calories is the Fruit Cup, containing 50 calories per serving and 0 g of fat.
Considerations
Although salads may seem like a more nutritious option when eating at Jack in the Box, some salads have more than twice as many calories and grams of fat than a hamburger. The Chicken Club Salad with Crispy Chicken Strips, for example, contains 510 calories, 27 g of fat and 8 g of saturated fat, without dressing. One serving of Bacon Ranch Dressing adds 260 calories, 26 g of fat and 4 g of saturated fat to the meal.
Benefits
Jack in the Box contains a Healthy Dining Choices section of their menu, highlighting the options that meet the nutrition criteria for the Healthy Dining Finder, according to the website HealthyDiningFinder.com. To meet the criteria, full meals must contain fruits or vegetables, 100 percent whole grains and lean protein. The Chicken Fajita Pita with Whole Grain, when eaten without salsa, meets this criteria, with 320 calories, 11 g of fat and 5 g saturated fat.
Expert Insight
According to MayoClinic.com, making modifications to your fast food choices may make it a more nutritious meal. For example, eliminating cheese and asking for dressing and sauces on the side may remove excess calories and saturated fat from the meal. Eat smaller portions and drink water instead of soda or a shake to make your meal even more nutritious.