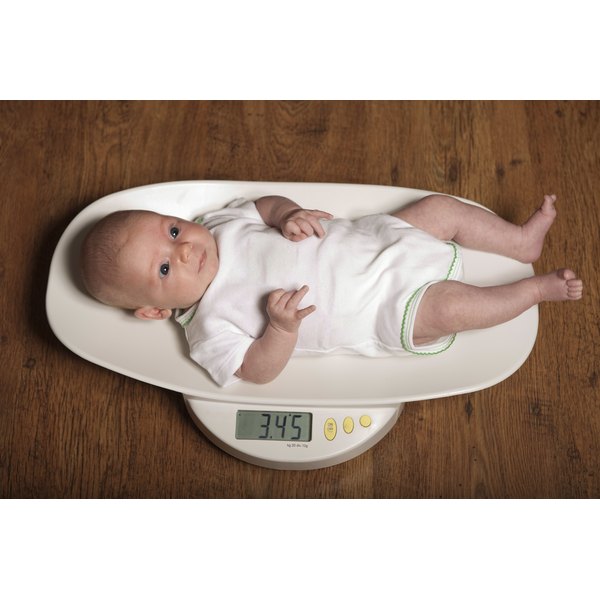 Many new parents often feel concern over their baby's weight. The rate at which a newborn gains weight can supply important information regarding the overall health of the infant. Weight gain can be an even greater concern for parents of premature babies. Babies born prematurely may require special care, including in the area of feeding and nourishment. Keeping track of your baby's weight gain may help provide valuable information about his health.
Birth Weight
Most full-term babies weigh between 6 pounds, 2 oz. and 9 pounds, 2 oz. Premature babies usually do not weigh as much as full-term infants. Some preterm babies weigh less than 2 pounds, while others may weigh almost as much as full-term infants.
Preterm Babies
Full-term babies are those born after the 37th week of pregnancy. Babies born earlier than 37 weeks are premature. With less time for their systems to develop, premature babies may experience complications, including difficulties gaining weight.
Risks
Depending on the level of prematurity, newborns may experience problems with breathing and maintaining an adequate body temperature. Some premature infants require intravenous feeding or feeding tubes to ensure they receive adequate amounts of nutrients.
Weight Gain
For newborn babies, weight gain is one indicator of health. While most newborn babies initially lose a little weight, MedlinePlus advises that most premature infants should start showing signs of weight gain within a few days after birth. Tiny infants may gain only 5g a day, while larger premature babies may see a daily weight gain around 20g. Some neonatal intensive care units set minimum weight requirements for babies to reach prior to their hospital discharge, while other units measure the average rate of gain to determine an infant's readiness for discharge. According to the American Academy of Family Physicians, many neonatal units require an average weight gain of 20 to 30g per day.
Considerations
In addition to weight gain, other factors may convey important information regarding the health of premature infants. Other signs that indicate progressive growth and continuing maturity include the ability to maintain an even body temperature, the ability to feed by mouth and the discontinuance of certain medications and treatments.