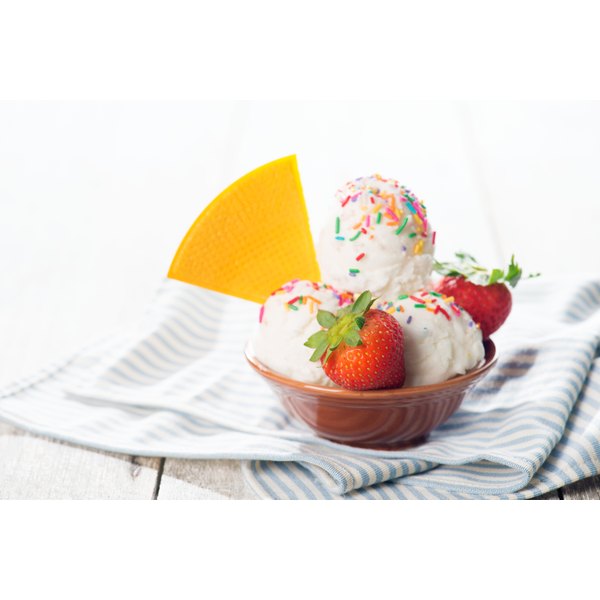 Lactose is a sugar found in most milk and dairy products. If you are lactose intolerant, you may suffer from stomach pains, gas, or diarrhea. Adults are more likely than children to be lactose-intolerant. Ice cream is "a sweet flavored frozen food containing cream or butterfat, and usually eggs," so the dairy-free frozen desserts that use soy, rice, or coconut milk are not described in this article.
Breyers' Lactose-Free Ice Cream
Breyers' entry in the lactose-free ice cream market is 99-percent lactose free. To date, the only flavor is vanilla. Breyers says it uses real vanilla bean specks in its lactose-free ice cream. Breyers is the only major ice cream brand to have a lactose-free ice cream on the market, but that is likely to change, since there are 30 to 50 million Americans who are lactose intolerant.
Lactaid Ice Creams
Lactaid manufacturers a wide range of lactose-free products, from cottage cheese to milk to whipped cream. Its ice cream comes in five flavors: chocolate, vanilla, cookies and cream, strawberries and cream, and butter pecan. The company says its products are made with 100-percent real milk as well as real cream, with all of the nutrients of milk but none of the lactose. It also sells Lactaid Dietary Supplements, which you can take before consuming dairy products if you are lactose-intolerant.
LaLoo's Goat's Milk Ice Cream
LaLoos uses 100 percent goat's milk in its ice cream. While goat's milk does contain lactose, many lactose intolerant people are able to drink goat's milk with little or no problems. Goats milk may be easier to digest than cow's milk: "The World's Healthiest Foods" states that "perhaps the greatest benefit of goat's milk, however, is that some people who cannot tolerate cow's milk are able to drink goat's milk without any problem." Theories abound, but so far scientists don't know why this is so.
Said to have a smooth, rich, dense, custard-like taste, LaLoos ice cream comes in gourmet-like flavors including Strawberry Darling, Black Mission Fig, and Deep Chocolate (made with dark chocolate), as well as fancy forms of chocolate chip and vanilla. LaLoos also sells goat's milk ice cream sandwiches.