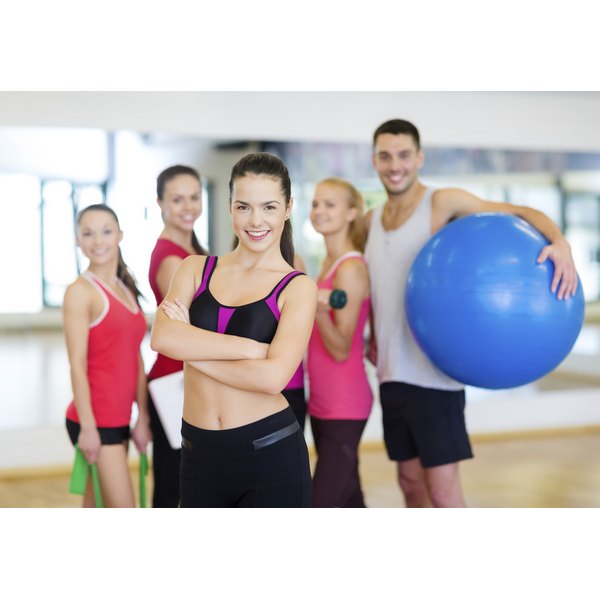 The General Nutrition Corp. sells diverse supplements that could support a calorie-restricted diet, but the company also has product lines dedicated to weight loss called GNC Total Lean and GNC Total Lean Advanced. Each product contains different combinations of ingredients designed to help you drop pounds. Some GNC products contain herbs, which can cause side effects or interact with medications, so consult your physician before taking supplements to be sure they're safe for you.
Healthy Weight Loss With Supplements, Diet and Exercise
GNC Total Lean and GNC Total Lean Advance offer about 39 products designed to meet a variety of diet needs, from nutrient-rich, low-calorie shakes and thermogenic products to carb controllers and protein bars. GNC recommends using Total Lean products as part of a healthy diet and exercise regimen, so they include a weight-loss plan with most products.
When you choose weight-loss supplements, consider how they can be combined with a balanced diet and regular exercise to get optimal results. For example, if you've been losing weight but hit a plateau, a fat burner may give your metabolism a boost. On the flip side, fat burners alone won't have much of an impact if you don't also restrict calories and follow a healthy lifestyle.
A supplemental meal replacement may be an option if you have a hard time cutting calories. Meal replacements can also help you lose a few pounds quickly. Just don't replace all meals or you won't get enough calories to support your energy needs. A low-calorie diet consists of 1,000 to 1,200 calories daily for women and 1,200 to 1,600 for men, reports the National Institute of Diabetes and Digestive and Kidney Diseases. It's not healthy to consume fewer calories unless it's done under the supervision of a physician.
GNC Products With Fat Burners
Several products in GNC's Total Lean and Total Lean Advanced lines contain fat burners and thermogenic substances. Fat burners promote the breakdown of stored fat in a process called lipolysis. Thermogenics work by temporarily increasing body temperature, which boosts metabolism and helps burn more calories.
Caffeine and green tea extract are two of the most common ingredients in weight-loss supplements. You may also see epigallocatechin-3-gallate, or EGCG, on the label because it's the active ingredient in green tea. Caffeine and green tea are effective because they trigger lipolysis and exert a thermogenic effect. They each work multiple ways in the body, but both of them activate enzymes that break down fat.
Several of the GNC weight-loss supplements have caffeine and green tea plus additional fat burners and thermogenics. For example, GNC Total Lean Healthy Metabolism Soft Chews add green coffee extract, Garcinia cambogia and five B vitamins, while the Total Lean Advanced Lean Shake Burn takes it a step further by including Capsimax and 14 additional vitamins and minerals.
Green coffee bean extract contains caffeine, but it's also a concentrated source of chlorogenic acid, which is a fat burner. Garcinia cambogia inhibits the synthesis of new fat cells in lab rats, but more research is needed to verify its effectiveness in people.
GNC Total Lean CLA contains just one ingredient -- a natural fatty acid called conjugated linoleic acid, or CLA. Research shows that CLA helps overweight people lose more fat than people taking a placebo, according to studies cited by Memorial Sloan Kettering Cancer Center. Other GNC supplements mix CLA with nutrients and fat burners.
Nutritional Support During Weight Loss
The GNC product lines offer a variety of shakes and bars with nutrients to protect against deficiency as you follow a weight-loss diet. Some of the fat-burning supplements supply a significant amount of vitamins and minerals, but GNC also has supplements that provide nutrients without other weight-loss ingredients.
The Lean Shake, which is part of the GNC Total Lean line, is a powder you mix with water to create a shake. It has 200 calories and gives you enough nutrients to serve as a meal replacement. You'll get 17 grams of carbs, 25 grams of quality protein, 3 grams of fat, 8 grams of fiber, and 24 vitamins and minerals. The total fiber includes 5 grams of soluble fiber, which comes from oat beta-glucan. Any type of fiber helps you lose weight because it makes you feel full, but beta-glucan is especially beneficial for maintaining a stable level of blood sugar.
If you want slightly fewer calories, you could go with the Lean Bar, which contains 180 calories and 15 grams of protein. Another option, the GNC Total Lean Advance Protein Bar, has 200 calories and 22 grams of protein. Both bars are high in fiber, with 10 grams in the Lean Bar and 18 grams in the protein bar. Based on consuming 2,000 calories daily, those values represent 40 percent and 72 percent of the daily value, respectively. If you're not used to consuming that much fiber, it may cause gastrointestinal discomfort, gas and diarrhea. You can avoid side effects by increasing fiber intake gradually. It's also essential to drink plenty of water along with fiber.
GNC Carb Controllers and Hunger Support
At the start of a weight-loss diet, decide how many grams of carbohydrates you'll consume each day. The Institute of Medicine recommends getting at least 130 grams daily or getting 45 to 65 percent of your daily calories from carbs. Then, fill your designated carb intake with healthy complex carbs from whole grains, beans, peas and small portions of starchy vegetables.
If you occasionally overconsume carbs, a product like GNC's Total Lean Phase 2 Carb Controller may minimize the impact. The Phase 2 Carb Controller is a carb blocker made from white kidney bean extract, which inhibits the enzyme needed to properly digest carbohydrate. Without enough of the enzyme, you won't absorb all the carbs, so you'll also avoid some of the calories. In 2006, the U.S. Food and Drug Administration approved two health claims for Phase 2: It may reduce the enzymatic digestion of dietary starches, and it may assist in weight control when used in conjunction with a sensible diet and exercise program.
GNC also has products to help keep hunger at bay. GNC Total Lean Hunger Support Fiber Gummies contain chromium and soluble fiber. The fiber absorbs moisture in your stomach, which gives you the feeling of fullness. Chromium is an essential mineral that plays an important part in the metabolism of carbs and regulating insulin. In this role it prevents fluctuations in blood sugar that make you feel hungry.
Carnitine in Weight Loss Supplements
If you check the labels, you'll see that several of GNC's Total Lean and Total Lean Advanced fat-burning products contain L-carnitine. The company also sells a product that has L-carnitine as its only ingredient. Carnitine's potential benefit for weight loss comes from its role in normal fat metabolism. Carnitine is responsible for escorting fatty acids into the mitochondria, structures inside every cell that turn fat into energy. As a result, supplemental carnitine may help you lose weight, although its effectiveness is still being studied.
GNC Total Lean L-Carnitine contains Carnipure, which is manufactured by a company called Lonza. Studies conducted by the manufacturer found that Carnipure increased fatty acid oxidation, or decomposition, which indicates it may be beneficial for weight-management programs. When used together with a reduced-calorie diet and exercise, L-carnitine led to more weight loss.
In one study, researchers divided 60 overweight patients diagnosed with polycystic ovarian syndrome into two groups. One group received carnitine supplements, while the other group took placebos. After 12 weeks, the women taking carnitine lost a significant amount of weight compared to the placebo group, according to a report in Clinical Endocrinology in December 2015.
Roundup of Other GNC Weight Loss Products
Other GNC products support various aspects of weight loss. The GNC Total Lean 2-Day Juice Cleanse may help you jump-start your diet. This product is described as a blend of herbs, vitamins, 10 grams of fiber and superfoods to detoxify while supporting energy levels.
For people struggling with water retention, GNC offers Total Lean Advanced Waterex Elite, which is designed to reduce bloating. In addition to providing three electrolytes -- potassium, magnesium and chloride -- Waterex Elite contains a mix of herbs traditionally used as diuretics, such as parsley, dandelion and horsetail powder. It also comes with a 14-day meal and exercise plan to maximize water loss.
GNC Total Lean Advanced Waterex Elite isn't the only weight-loss product to contain several herbs. For example, GNC Total Lean Advanced Metabolic Elite has eight different herbs. One of them, Mucuna pruriens, comes from a tropical legume that contains levodopa, or L-dopa. When L-dopa enters the brain, it's used to produce the mood-regulating neurotransmitter dopamine. This highlights the importance of knowing each ingredient, just in case you don't want to consume something like L-dopa. If you're not familiar with any ingredient, talk to a health care professional -- your physician, a registered dietitian or a local pharmacist -- to learn about the ingredient's use and possible side effects.