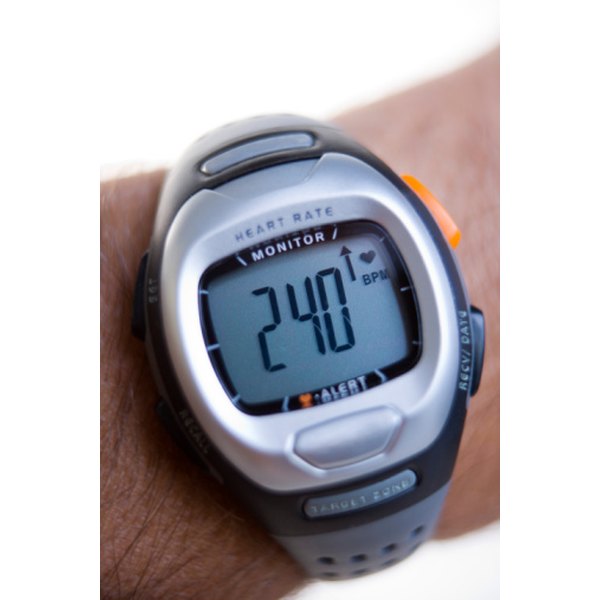 Heart rate monitors are used to give a quick reading of your average heart rate in beats per minute, which is very useful for training. However, it can be hard to decide which one is best for you. There are many different manufacturers that have monitors in a variety of price ranges, and it is important to balance desired features with your budget.
Suunto T1C
This Suunto model costs about $90 and includes many features such as three programmable training zones with alarms and real-time calories burned. It also has a speedometer-style dial that shows where you are in a certain target training zone. After training, a log of that session can be downloaded with minimum, maximum and average data.
Suunto T3
This is a slightly more advanced model than the T1C and costs about $170. The higher price buys Suunto's training effect software that scores the intensity and effort of a workout on a one to five scale, a 15-workout log and the ability to purchase sensors that link directly to the watch to determine the speed at which you are traveling on bike or foot.
Ciclosport CP 13IS
A lesser-known manufacturer, Ciclosport's CP 13IS costs about $70. Despite being lesser known, this heart-rate monitor's performance is consistent and reliable according to the magazine Triathlon 220. The standout feature is the ability to recall time spent in a particular training zone. It also comes with a handlebar mount for cyclists and a visual counter that shows where you are in the training zone.
Garmin FR60
A slightly more expensive monitor at $190, this Garmin has a wide range of features. There are five programmable training zones, but has limited recall data after the workout. It also comes with the Ant+ stick, which allows data to be downloaded wirelessly to a PC or Mac. The basic Garmin Connect software, which is supplied when purchasing this monitor, can analyze your workout sessions and give key data.
Polar FT1
This is a well known manufacturer priced in the $70 to $80 mark. The syncing between strap and watch works effectively and is comfortable to wear. It is one of Polar's most basic models but you can program up to five training zones, however recall is limited to duration, maximum and average heart rate. This monitor shows heart rate on a large graphical screen for easy use, it also uses coded heart-rate transmission to avoid any interference from other monitors.
Cardiosport Fusion 10
This is one of the least expensive monitors featured at $60, and the syncing has no loss of signal or strange readings. The features allow it to recall exercise duration as well as the average, maximum and minimum heart rate for the last session. It has one programmable training zone for which high or low alarms can be set. Fusion 10 has a hands-free scan feature showing how long and how hard your work-out has been to check progress during exercise.
Soleus Surge X
A moderately priced monitor costing about $130, this unit features three training zones with a large graphical screen for easy use. An asset of this monitor is the 30-run memory, which is able to recall any of the past 30 runs and analyze data from them. Data that can be analyzed is average, maximum, minimum heart-rate. The watch has a wide base so would not be suitable for smaller wrists. It also has a calorie counter and a 100-lap memory.
Cardiosport GT2
This monitor is priced at about $100 and its biggest advantage is the ability to set five training zones. The first can be programmed manually based on the goal of your workout. Three more zones are preset using generic age, weight and sex data and the fifth is a self-set cardio-zone. When recalling data, there is only data available for the most recent training zone, limiting its effectiveness after exercise. The five zones are useful to vary training and work on different aspects of fitness.
Timex Easy Trainer
This is one of the least expensive at $50 to $60, but is also the most basic of models. There are no zone setting or zone alarms and the monitoring is very basic. However the performance has no interference or signal disturbance between strap and watch, and it has relatively simple operating instructions so makes an excellent easy to use monitor for basic use. It shows average heart rate on a single button allowing focus to be on training and not trying to work the heart monitor.
Polar FT7
This monitor is effective for weight loss and general fitness users however carries a higher price tag of $160. The strap features an energy pointer that tracks fat burning, fitness improvement and calories burned, which is useful for those wanting to lose weight and keep track of their calorie loss during exercise. However this monitor lacks the ability to recall crucial training zone information so is less useful for athletes looking at training data.