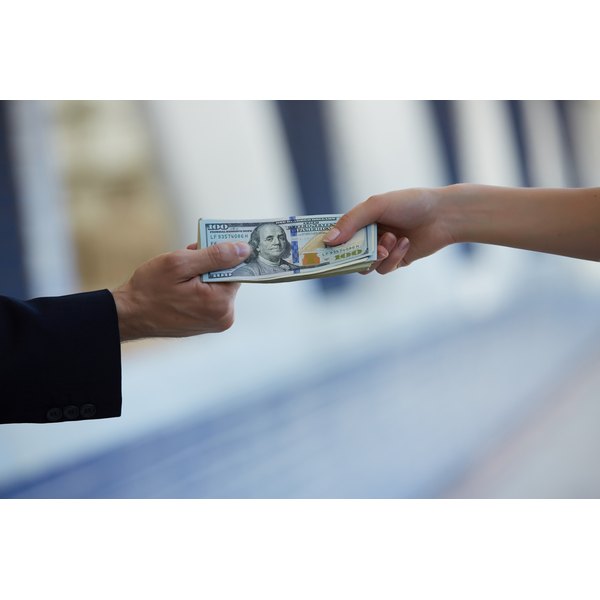 When you help a family member financially, such as giving them a loan to help them buy a home, start a business or make important payments, you have to generate an enforceable document that states the clauses you both agree upon to avoid any confusions and misunderstandings. When done right, a loan to a family member is advantageous for both parties, since you may be open to giving your family member a better interest rate than a finance company or bank and your money stays in the family. The document you create will also help to keep your records clear with the IRS.
Meet with your family member in a pleasant, professional and neutral venue, such as a casual restaurant. In this meeting you can talk about the terms you will be implementing on the loan. Things to consider in this conversation can include the amount you are comfortable in loaning him, your stated rate of interest, a payment plan or definite payment date, and any collateral you may require in order to make the loan. It may seem hard to speak in such business-like terms with a family member, but you will be happy you did so in the long run as it will make the transaction professional and any expectations clear.

Draft a copy of your loan document. It should detail the loan amount, payment information, collateral, interest rate and an explanation of any late fees, as well as both yours and your family member's contact information. It is important to decide upon an appropriate interest rate because if the rate is too low, the IRS may consider the loan a taxable gift and you will lose legal rights to gaining back your money, according to the website Loan Back. Websites such as Bankrate.com and Interest.com offer information that will help you review average industry rates to help you determine the rate you will charge on your loan. When there is collateral on the loan, you may be able to lower the interest rate for your family member.

Notarize your loan document before you transfer any money to your family member's bank account. Avoid giving her cash, as you want to have a record of all the money transactions that are pertinent to this loan.

Tip

Avoid lending money to family members who exhibit any type of substance abuse, as the loan may only enable their addictions to continue.

Warnings

It is illegal to charge an excessive rate of interest on a loan; this practice is regulated by usury laws that vary by state. Be sure to check with your particular state to make sure that your interest rate does not break a usury law.