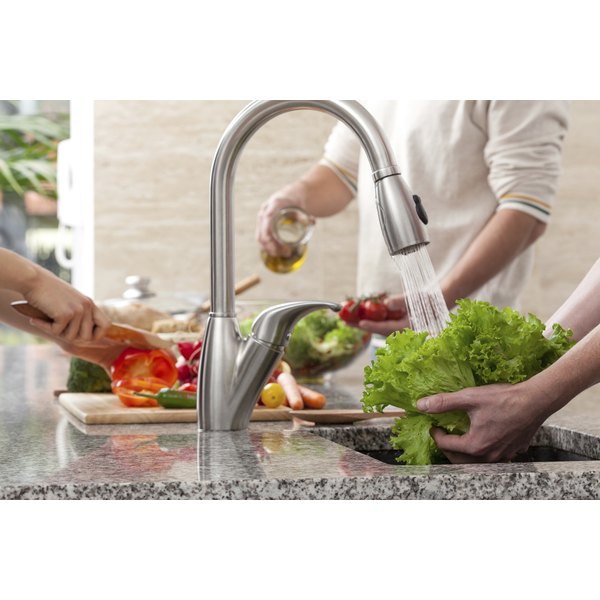 Planning healthy family meals on a budget takes dedication and preparation both before you head to the grocery store and during the week when things get busy. The payoff for your work is a sense of organization when it comes to meals, a lower grocery budget and a delicious dinner the whole family can enjoy.
Before You Shop
One of the best strategies to keep your grocery list within your budget is to consistently plan your meals. Sit down once a week and plan out all meals for that week. Include breakfast, lunch and dinner. Consider what days you might go out to eat, because if you plan a meal for that day, the food you buy for it might go to waste. This is a waste of your money, too.
Plan your shopping list around sales. Every week, pick up a copy of the newspaper on the day that grocery ads run, or visit local stores' websites to see what is on sale. If ground beef is on sale, plan at least one or two meals based on ground beef. You can also purchase extra ground beef so the next time you want to use it in a meal, you don't have to buy it at a higher price.
Throughout the week, stick to your meal plan. If assigning certain dishes to certain days is too stringent for you, just plan which meals you'll make for the week and select which meal you want to eat on any given day. Don't head back to the grocery store because you got a craving for a different meal, as this will increase your grocery spending.
Making a List
After you've planned which meals your family will eat during the upcoming weeks, make a shopping list. Include the items you need for your meals, as well as any staples, such as bread, milk or juice. Do not include toiletries, because you can often purchase these items at a different store for a lower price.
If you clip coupons, go through your coupon archive and find any that might help you save money on this week's meal plan. Paper-clip these coupons to your grocery list so you don't forget them at home.
Navigating the Store
When at the store, stick to your list. It will make your meal plans easy to fulfill and keep your budget on track. When choosing between different brands and sizes of packages, check out the unit prices. These prices are displayed on the shelves below the food and tell you how much the food costs per ounce. While a smaller package might be cheaper at face value, the cost per ounce might be more. For example, if an 8-oz. can of tomatoes costs $1.49 and a 16-oz. can costs $1.99, the 16-oz. can is more cost-effective.
What to Buy
Choose generic foods whenever possible. Additionally, check the top and bottom shelves for less expensive items--the higher-priced items are shelved at eye level.
Making it Stretch
Make your family's meals stretch by adding extra vegetables. For example, if you're making a chicken and rice casserole, adding a bag of frozen vegetables bulks up the dish, stretching it to serve an additional person (or to be put into the fridge for lunch the next day). You can also make your dishes pull double-duty if there's a good sale at the store. If you've stocked up on chicken breasts because they were priced well, make two chicken and rice casseroles and put one in the freezer. Next time you don't have extra money for a lot of grocery shopping or you've run out of time to cook dinner, just pull the extra casserole out of the freezer and stick it in the oven.