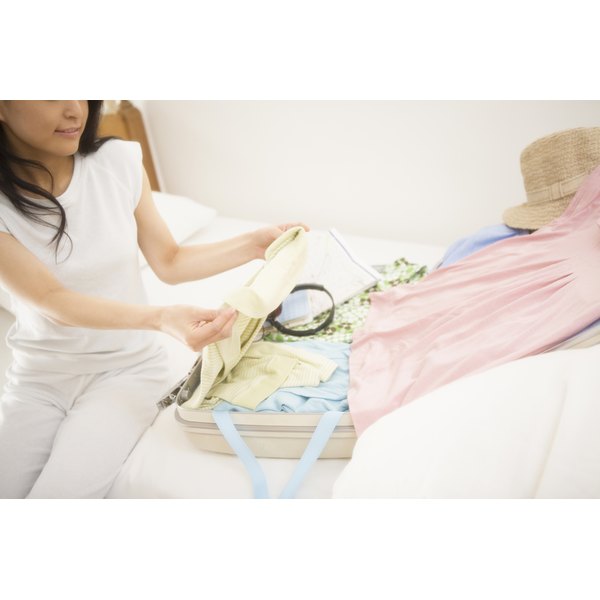 Leaving an abusive husband can be extremely difficult and even dangerous. In fact, women who leave their abusers are 75 percent more likely to be severely injured or killed by their partners than those who stay, according to a study by the National Coalition Against Domestic Violence. If you need to leave an abusive husband, having a plan is essential.
Protect yourself while you are making preparations to leave. Prepare for a quick escape when you fear an episode of violence. Stay away from rooms where you can become trapped, such as the bathroom, and avoid rooms where there are items that can be used as weapons, such as the kitchen, suggests the American College of Obstetricians and Gynecologists. Let a trusted friend, family member, doctor or nurse know about your situation and that you are planning to leave. The Center for Relationship Abuse Awareness suggests using a code word to let a friend or family member know if you are in immediate danger.

Begin gathering essential items you need to take with you, and pack a suitcase. Leave your suitcase at a trusted friend's house, advises Dr. Phil in his article "An Exit Action Plan: Guidelines for Leaving an Abusive Relationship." Pack important paperwork, such as identification cards, bank account information, birth certificates, car titles, health records, immigration paperwork and any records you have proving the abuse. Include medications, credit cards, extra sets of keys and any money you are able to set aside, says the Center for Relationship Abuse Awareness.

Choose a time to leave and practice your escape plan. Plan to do it when your husband is usually out of the house or when you customarily run errands by yourself. Make arrangements to stay with a friend your husband doesn't know or locate the nearest battered women's shelter so that you have a place to go, day or night, suggests the Center for Relationship Abuse Awareness. You may have to flee suddenly.

Prepare for the aftermath of leaving an abusive husband. Get an emergency protective order, which can go into effect immediately and lasts five to seven days to give you time to file for a restraining order, the website Womens Law advises. Restraining orders can force your husband to leave your mutual residence and even make it illegal for him to contact you by phone, notes Womens Law. According the National Domestic Violence Hotline, local law enforcement should have your restraining order on file, but you should have a copy with you at all times in case of clerical error. Change the locks on your house and vehicles, and consider installing better security, such as bars on the windows and metal doors, suggests the Center for Relationship Abuse Awareness.

Tip

Let your neighbors and security at your workplace know about your abusive husband so that they know to watch for him and to call the police if he shows up.

Warnings

If you have children, your escape may be much more complicated because of complex laws regarding custody. Ask an abuse counselor for help finding a lawyer specializing in abuse custody cases to advise you on the best ways to keep your children safe.