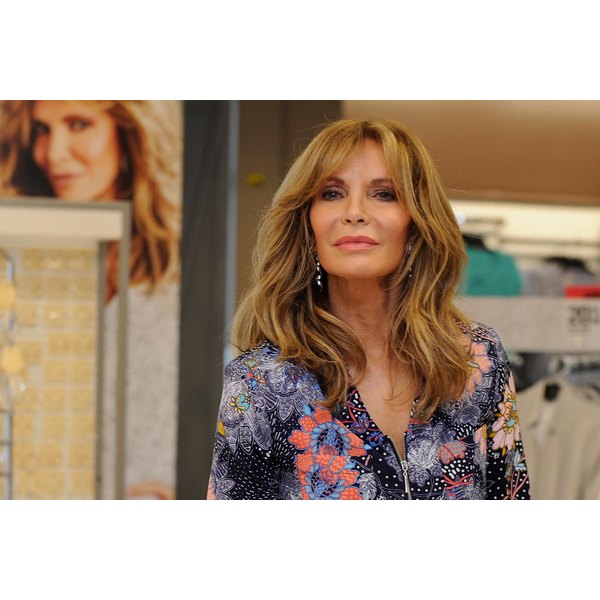 At 72 years old, Jaclyn Smith has maintained an active lifestyle, running her apparel and home decor business, attending to her family and staying healthy after having breast cancer in 2002.
"Once you hear that word 'cancer,' you are so much more aware of your health," she told LIVESTRONG during an event for the introduction of the Jaclyn Smith Ready to Wear clothing collection at Sears.
The much-loved "Charlie's Angel" finds beauty in a simple life.
"I don't drink, I don't smoke. I have never touched a drug. I might have a Bellini or glass of wine. Do I love it? Not really. I just don't love the taste... I see people do a lot of drinking. It just wouldn't work for me. I know, I am a goody two-shoes!"
The most important thing in Smith's life is her family. Her husband, Brad, children Gaston and Spencer Margaret, as well as the newest addition, Spencer Margaret's daughter Bea, keep her centered and serve as her inspiration.
She Fits in Fitness Every Day
While she recently has undergone partial knee-replacement surgery, Smith makes sure to exercise.
"I am doing Pilates every day, something I used to do and then went into another form of exercising. Pilates, which was designed by a dancer who had been injured, is just an amazing way to work out … it's part of my routine," she said.
Smith has a Pilates Reformer in her home. "You are elongating the muscles, really doing the interior work to support your body. My husband is a strong believer in Pilates too. He really realizes that if you don't work out you lose the muscle, and that's not good," she said.
She added: "Now that I am a grandmother, I want this knee to work. I want to be able to pick my granddaughter up and not feel like there is an extra weight on my body. So I have been working on building the muscle in my leg to support that."
To stay fit, Smith likes taking vitamins and "old-fashion remedies" like turmeric and apple cider vinegar, which reduces inflammation, arthritis and acid reflux.
No matter her busy schedule, Smith includes fitness as part of her day.
"I believe exercise — not only for your body, but for your mind — is so important. If you are at a desk job, do leg extensions underneath the desk. If you are shopping... take a long walk around!" she said.
"But you have to be consistent, otherwise it doesn't work."
For more than 30 years, more than 100 million women have purchased clothing or accessories bearing the Jaclyn Smith name, which is why the veteran actress has to stay on top of her game.
She's a Healthy Eater But Has Guilty Pleasures Too
Breakfast is Smith's main meal. "It goes from Cream of Wheat to two poached eggs and toast, orange juice, berries. It's a very big meal. I love breakfast!" she enthused.
"For lunch, it could be a green drink. Something small, because I eat dinner early usually, unless we are going out. I am very into what we buy: organic, no hormones, no antibiotics, vegetables. I am a pretty healthy eater. I don't diet. What I do works for me."
She does, however, indulge every so often. "I still have my desserts at dinner. Hamburgers and pizza — I am not going to give that up! And my gummy bears! I love candy!"
Smith has altered her exercise routine as she has grown older.
"I think people today really want to be in good shape. They are active, they live longer and they need their body to be supportive. And people know more about fitness now."
Smith continued: "I was a former dancer. I used to think, 'Hurt yourself. The more you do the better.' Well, no, especially as you get older. Placement, technique, not just pumping the weight — we need to do it in the right way," she emphasized.
"So educate yourself in how you do work out, because you can have an injury if you don't do it right."
Her Secrets for Staying Young
"Work keeps me stimulated, challenged and rejuvenated. Am I a woman that goes to lunch and has a manicure? Not my thing. Work keeps me young, happening and relevant. My children respect me for working and are proud that I do work still.
But the work/personal life ratio must always be in balance, Smith acknowledged.
"I think women go in so many directions they never take a break. I have said to women, 'Make sure you get your turn.'"
Smith is also involved in many health-related charities, such as AbilityFirst, which helps children and adults with physical and developmental disabilities, and is an advocate for many cancer charities.
"Each year I do a Day of Beauty event at City of Hope Hospital with celebrity hairstylist Jose Eber, who is a part of my wig collection. These women who have breast cancer come there one way, and they leave looking completely different. It's a very fulfilling day to change their frame of mind and make them feel beautiful," she said.
"It's very important to give back. As a celebrity, you have that opportunity because people already feel they know you. If they have watched you, they trust you and will open themselves up."
See more of LIVESTRONG's Stronger Women interviews.