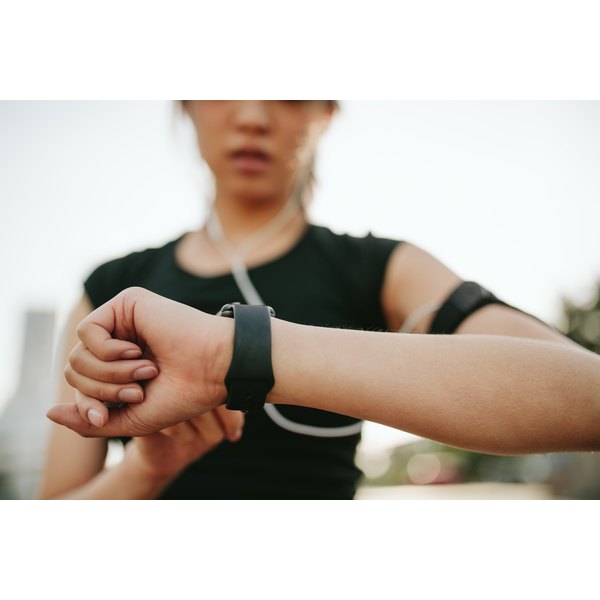 Watches have evolved from simple clocks to full-blown computers. Runners reap the rewards of the technological arms race of fitness wearables and smart watches. An incredible amount of technology can be packed into a sleek watch that can help you track your runs and monitor progress. Finding the best watch means balancing your budget with your needs.
Fitbit Blaze
As the best seller on Amazon's list of fitness tracking watches, this device is a powerhouse of technology. Fitbit is already known for their fitness trackers and this device is no slouch in that department. You can log your steps for the day, information from your runs like distance, pace, and heart rate and it even monitors your sleep. It will give you reminders to move during the day if you're feeling a little sluggish and offers Fitstar guided workouts if you're in need of some coaching or cross-training.
During your run, the watch will monitor your heart rate and you can use it to control your music. The only drawback when compared to some of the more advanced running watches out there is that this particular device doesn't include GPS tracking, you have to link it to your phone.
Garmin vivoactive
This thin and portable Garmin smartwatch packs the usual technological power that their watches tend to have into a slim device. It has GPS to track your runs and an accelerometer to measure step count and calories burned throughout the day. The vivoactive also features a heart rate monitor and the option to purchase a strap for more accurate measurement of your heart rate.
The watch links up to your phone and vibrates every time you receive a notification like a text or call. It also monitors your sleep and can let you know if you've been sitting for too long. Overall there's a lot of value in this product.
Garmin Forerunner 230
The interface of this watch is very simple and easy to use, but that doesn't mean the features are watered-down. This watch can measure your VO2 max, which is your oxygen usage during a workout and reflective of your fitness level. It also tracks your distance through GPS and cadence with an accelerometer.
You can connect to Garmin's network with this device and compete with friends and family to see who can run the fastest, furthest and most frequently. Adding the heart rate strap makes it a very accurate measuring tool to see how your body is performing on your runs.
Garmin vivosmart HR+
This is more of an activity tracker, but the simplicity makes it attractive for a runner who doesn't need all the bells and whistles of bigger watches. The barometric altimeter on this device sets it apart from other trackers because it can give you a more accurate report on the intensity of your run by factoring in altitude. The watch will learn your daily activity level and then start to assign you a daily step count goal to keep pushing your progress forwards.
Fitbit Charge 2
The holistic approach to tracking by Fitbit is apparent in this device. It measures activity level, sleep quality and heart rate throughout the day. You can do breathing sessions with this watch that work by monitoring your heart rate and giving you cues. There is even a gentle wake-up feature where your watch will slowly vibrate to stir you in the morning. The watch tracks your runs through an accelerometer and heart rate monitor. You can connect it to your phone to get GPS information.
Garmin Forerunner 920XT
If there was a Cadillac of running watches, this would be it. It's built not just for runners, but for serious triathletes. It can measure heart rate and strokes while swimming, pedal cadence while biking and track information from your runs. There is a VO2 max feature that measures your exercise intensity and it even has an advanced heart rate monitoring system that can tell you how well you've recovered from your last training session.
Apple Watch Nike +
Nike puts its prowess for developing products geared towards the serious athlete to the test when they paired with Apple. This version of the Apple Watch, which is already loaded with features like a built-in GPS, heart rate monitor and activity tracker, is even sleeker and runner-friendly.
The band is designed to be worn while running and is pockmarked with holes to increase breathability. You can connect the device to Nike +, which is Nike's running community. It holds you running history so that you can relive past runs and plan for the future.
Polar M400
Polar's original claim to fame was the heart rate monitor with a strap, which is extremely accurate. Now they've delved into the smartwatch realm with some very advanced devices. This watch has a GPS built-in, and you can take things to the next level by buying one of Polar's heart rate monitor straps.
You can use the watch to measure your baseline aerobic fitness level with a five-minute fitness test. You can also track your progress, measure your recovery and use Polar's adaptive running programs to chase your goals.
Polar V800
This device has everything that the M400 has plus additional features that allow you to track your swimming and cycling progress. It's built not only for the runner, but the triathlete. It also has more advanced and accurate heart rate monitoring software that allows you to track your recovery over time and predict how you will respond to training. You can also use the GPS device to find new routes and upload them as a guide for new challenges.
TomTom Spark 3
TomTom's claim to fame is the GPS device, which is very popular in cars. That means that this watch includes a high-powered GPS tracking system for your runs. You can also store up to 500 songs in the watch, which comes with bluetooth headphones included in the price. It competes with other wearables by tracking steps during the day, sleep at night and is waterproof to allow you to track while swimming.