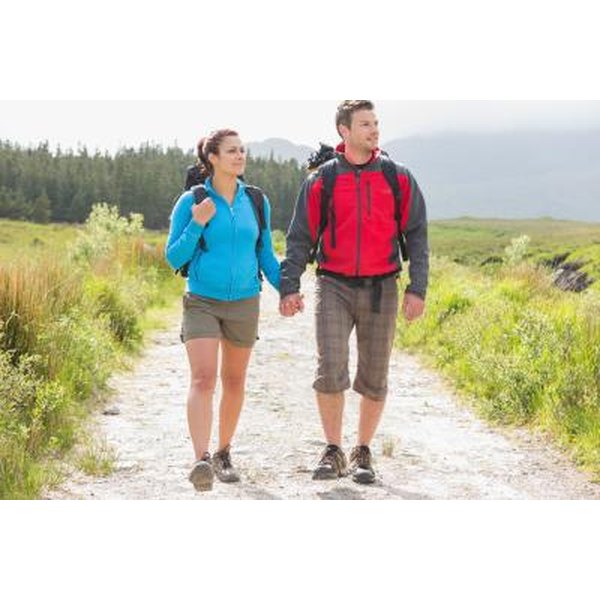 Setting a SportLine Pedometer is quite simple and can be done in a few minutes or less. Pedometers are simple digital devices used for counting your steps throughout the day. Some pedometers have alarms, mileage alerts and interval timers; while others are narrowly focused step-counting devices. Motion sensing devices like the SportLine 330 Step have one-button functionality and can easily be carried in a pocket or attached to your belt with the included belt clip.
Step 1
Remove protective film on the display lens of the pedometer. Remove the battery lining strip located in the battery slot on left side of pedometer, facing front, to ensure the battery is making direct contact to power your pedometer.
Step 2
Inspect your pedometer to familiarize yourself with the layout. The features include a reset button for all functions found on the face of the device. A belt clip on the back of the device can also be secured to the waistband of your pants or shorts.
Step 3
Start your device by pressing the reset button. This will reveal two on-screen messages you will need to know before using your pedometer. Press the reset button for two seconds to reset to 00000, and then press the reset button again for two seconds to start your pedometer.
Step 4
Start your pedometer step counter function by pressing the reset button for two seconds. The display will show 00000, and the step function will be reset to zero. Begin walking and the pedometer will keep track of your steps throughout the day or for individual exercise routines. The ability to track your steps up to 99,999 means you can leave it on all day to measure your activity level for the entire day.
Step 5
Attach the pedometer to your belt or waistband and be sure to keep it at the crease line of your pants or shorts. Keeping the device parallel to the ground will ensure accurate tracking of your activities.