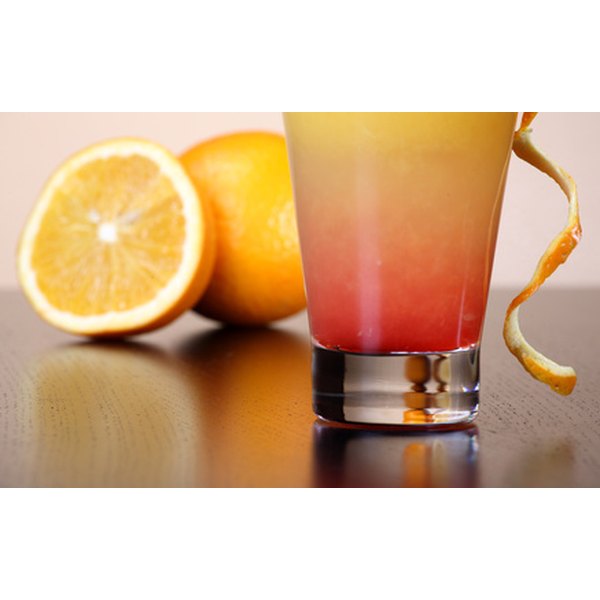 If you want to increase weight to achieve your desired weight goal, adding juices and smoothies to your nutrition plan provides extra health benefits and calories. While juicing is often marketed for weight loss, you can select fruits and vegetables that provide fructose and sucrose to supplement the demand for extra energy and weight gain.
Step 1
Gather your favorite arrangements of fruits and berries to juice separately or together. Fresh or frozen berries and fruit are rich sources of natural sugars, antioxidants, vitamins, minerals and fiber. Bananas, figs, mangoes, strawberries, kiwifruit, grapes, cranberries, blueberries, apples, pears and peaches make useful additions to any juice or smoothie to create a delicious flavor and support healthy weight gain.
Step 2
Select vegetables for juicing that are high in natural sugars. Their ranks include carrots, beets, kale, artichokes, pumpkin and onions. Vegetable juices help to cleanse the liver, kidneys and blood, and will provide high amounts of vitamins, antioxidants and minerals. Play around with combinations of different vegetables, fruits and spices to find recipes that work for your palate.
Step 3
Add essential fatty acids such as flaxseed oil, borage oil or evening primrose oil. One or two tablespoons of one of these oils provides extra calories and increases the nutritional and medicinal value of your juicing. Once you have added your chosen oil, blend or whisk the juice to dissolve it completely. Flaxseed, borage and evening primrose are rich sources of omega 3 and omega 6 fatty acids and will support the heart, reduce inflammation and promote mood, hormone balance and memory.
Step 4
Add a tablespoon of unsweetened and low-fat yogurt to your juice and transform it into a health smoothie. In addition to enriching the flavor of your drink, yogurt will thicken the consistency and provide extra calories and nutrition. Yogurt also has high levels of calcium and probiotic bacteria, promoting good digestion and assimilation of nutrients.
Step 5
Add half a teaspoon of organic spirulina powder. Spirulina is a nutrient-dense algae containing a range of vitamins, minerals, protein, essential fatty acids, antioxidants and chlorophyll. In a study published in "Annals of Nutrition and Metabolism" in 2005, researchers found spirulina helped to support the weight gain of HIV-positive children in Burkina Faso. In addition, supplementing the children with spirulina helped to correct anemia and malnourishment.