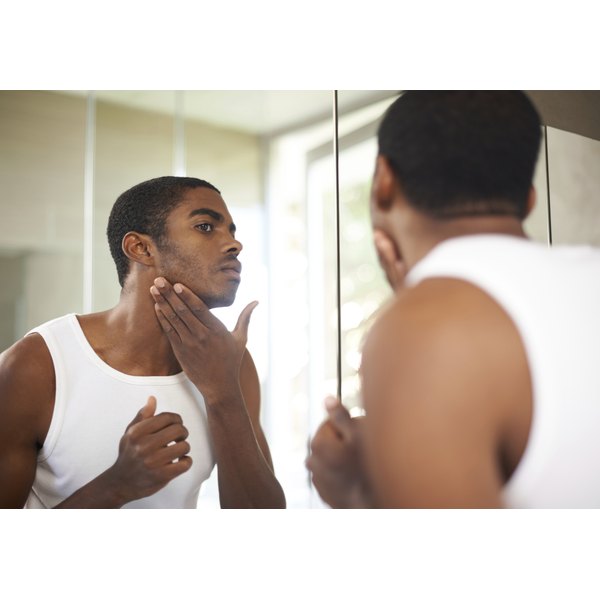 The topical medication tretinoin, known by the brand name Retin-A, can treat some scars that involve skin discoloration, notably skin left by healed acne lesions, according to the American Academy of Dermatology (AAD). However, Retin-A, at least at lower doses, may not be effective against other types of scars, such as stretch marks.
Significance
When moderate to severe acne finally clears up, it may leave behind red, pink or purple spots on the skin. These spots, which are not technically scars because they will fade eventually, can be prominent and unsightly, according to the AAD. Although many over-the-counter bleaching creams are available, they aren't likely to be very effective on these scars, according to the Mayo Clinic. But Retin-A cream prescribed by your dermatologist can help.
Function
Retin-A, which also is used to treat acne, fine wrinkles and dark "age spots," functions by lightening the skin's color and encouraging the skin to regenerate, or produce new skin cells, at a faster pace. The result is younger, plumper-looking skin with fewer discolorations or pigment variations, according to the Mayo Clinic.
Effects
Some former acne patients may have tried Retin-A already for their acne; not only can it help clear up pimples, but it often can also prevent severe scars from forming, according to the AAD. For scars, though, a medication that combines tretinoin (the active ingredient in Retin-A) with other ingredients, such as hydroquinone (which bleaches the skin) and a corticosteroid, can be more effective on scars than pure Retin-A alone.
Time Frame
Patients shouldn't expect overnight results; Retin-A scar treatment generally takes several months or more to effectively fade scars. In addition, patients also shouldn't expect Retin-A to work as well on different types of scars, such as stretch marks or pock marks. For example, a 1994 medical study published in the journal "Cutis" found no difference in stretch marks treated with a low dose tretinoin cream when compared to a placebo, although some studies indicate higher doses might work on newer stretch marks.
Considerations
Retin-A often irritates the skin, especially during the first two to three weeks of use, according to the Mayo Clinic. In addition, patients using Retin-A must be especially careful of sun exposure; dermatologists recommend using at least an SPF 15 sun block at all times on treated skin. Skin also is vulnerable to wind burn and to exposure to the cold, especially during the first few months of treatment.