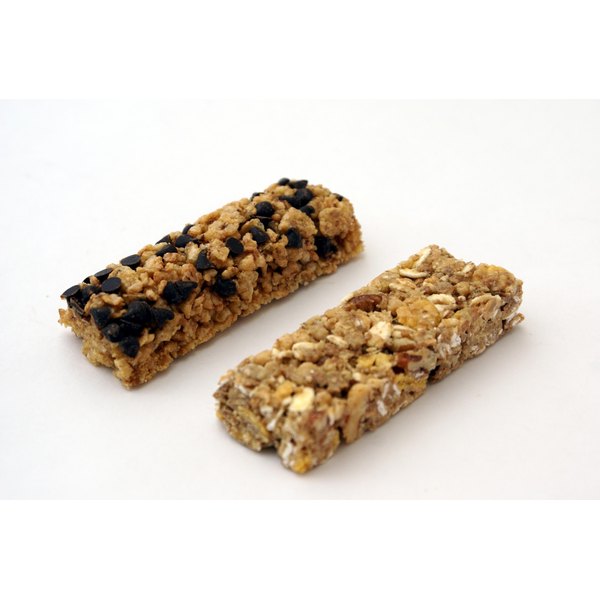 If you think whey protein bars inevitably taste chalky and gross, think again. Several of the best whey-enhanced bars on the market provide not just a dose of protein, but also a mouthful of delicious goodness. Eating bars that contain whey protein may help athletes, bodybuilders and fitness enthusiasts by providing branch-chain amino acids that foster weight management, muscle growth and fat loss, explains the McKinley Health Center at the University of Illinois Urbana-Champaign.
Solo Protein Bar
Before hitting the gym for an intense bout of exercise, "Health" magazine recommends eating a SoLo protein bar. The magazine reviewed several protein bars, accounting for ingredients, price and flavors, and notes that Solo's products contain an optimal balance of protein and carbohydrates for a "sustained energy release." The company's five bar flavors, including a mint bar and a chocolate bar, all utilize its proprietary protein blend comprised of whey protein isolate, whey protein concentrate and soy-based protein to the tune of 11 g per bar.
Supreme Protein Carb Conscious
When you're scouring a convenience store trying to satisfy your sweet tooth, "Men's Fitness" magazine suggests Supreme Protein's protein bar as a tasty, cravings-satisfying alternative to candy. The company offers seven flavors, including chocolate caramel and cookies 'n' cream. The full-sized, 96 g version of each flavor contains 30 g of the company's Supreme Protein blend, made from whey protein isolate, whey protein concentrate and milk protein isolate, plus more whey protein in the chocolate coatings where applicable.
Luna Protein Chocolate Peanut Butter
"Health" magazine named Luna's chocolate bar one of the best energy bars on the market, reporting that it "didn't have an 'energy bar' taste." That may be due to a cocoa covering surrounding a nougat center -- similar to a traditional candy bar. The Luna bar's 12 g of protein comes from soy protein isolate and whey protein concentrate.
Promax 70 Bar
The 70 Bar from Promax won a "Gear of the Day" from the editors of "Bicycling" magazine, who loved its low calorie count and praised its flavors, which include chocolate fudge and peanut butter chocolate. Its 18 g of protein comes from a proprietary Promax protein blend made from soy protein and whey protein concentrate.