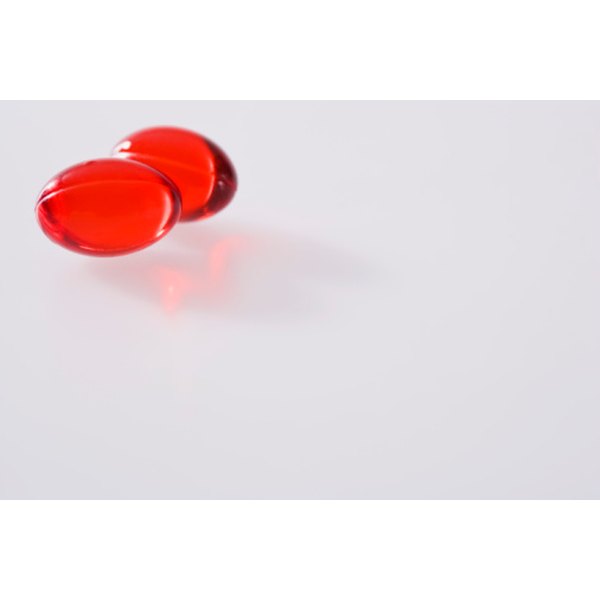 The American Heart Association reports those who are obese are prone to health complications such as high blood pressure, diabetes, heart disease, cancer and sleep apnea. As of 2011, nearly 70 percent of Americans are classified as either overweight or obese. While diet and exercise is the foundation for creating a healthy and functional body, the use of supplements is a popular addendum to this tried-and-true weight loss formula. Fish oil pills are among the growing list of natural supplements marketed for weight loss, and while this supplement is beneficial for certain bodily functions, its effectiveness for weight loss are not as great as manufacturers and marketing claims.
Fish Oil Properties
Fish oil was first introduced in the 1980s as a natural supplement to help reduce the likelihood of developing high blood pressure as well as a heart attack prevention supplement. The main active compounds within fish oil are omega-3 fatty acids, eicosapentaenoic acid and docosahexaenoic acid. The Mayo Clinic reports that these compounds are known to reduce heart attack risks, lower blood pressure, hinder the development of atherosclerotic plaque and reduce the risk of heart disease.
Fish Oil and Weight Loss
While omega-3 fatty acids and the other active compounds within fish oil promote a healthier body by reducing the risk of developing life-threatening conditions and ailments, the notion of fish oil for weight loss is nothing more than false advertisement. Reuters outlines a study performed by the Cooper Institute in Dallas, Texas, in which 128 obese/overweight individuals were either given the recommended dosage of fish oil supplements or a placebo supplement over a period of 24 weeks. Along with consuming the supplement, the study required these individuals to perform standardized cardiovascular and resistance training exercises. At the conclusion of the study, those who took fish oil supplements lost an average of 11.5 lbs. while the placebo group lost an average of 13 lbs. While the fish oil supplements were proven to not promote higher weight loss, those who consumed this supplement did experience a boost in cardiovascular health.
Dosage Recommendations
The dosage recommendations for fish oil supplements are determined by the actual purpose for supplementing. For example, according to MedlinePlus, those with high blood pressure should consume 4 g of fish oil per day, while those looking to ease the pain associated with rheumatoid arthritis should consume 3.8 g of EPA as well as 2 g of DHA found in fish oil supplements. Because fish oil is not capable of promoting weight loss, the exact dosage should be determined by your physician. Along with consuming fish oil supplements, the Mayo Clinic outlines a recommendation from the American Heart Association, which suggests consuming fish at least two times per week.
Warnings
It is important to note fish oil is not the same as cod liver oil, and taking cod liver oil in the same amounts as the recommended fish oil dosages may result in toxicity as cod liver oil contains high concentrations of vitamin A. Always speak to you doctor prior to consuming fish oil supplements to ensure its safety. This is especially important if you are currently taking any medications. Some of the most common side effects from taking fish oil include bad breath, nausea, heartburn, loose bowel movements and skin rash.