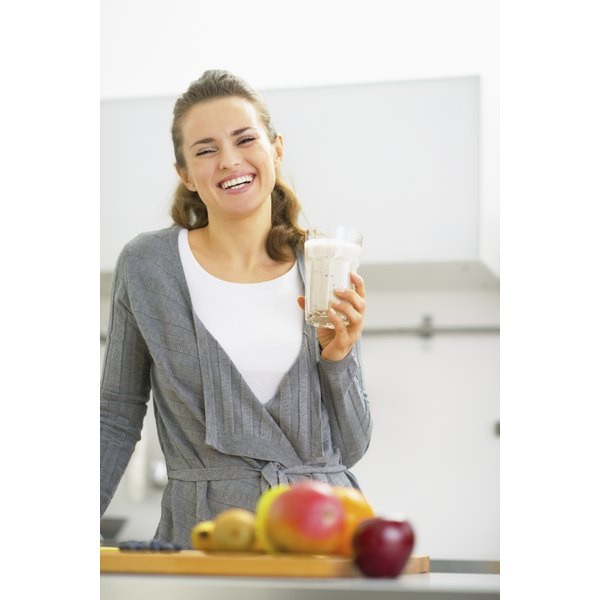 Protein shakes can be a healthful part of your weight-loss plan and help repair your muscles after exercise. However, commercial protein powders are not regulated by the U.S. Food and Drug Administration and might contain unwanted contaminants. To avoid potentially unhealthy ingredients, make protein shakes from home with all-natural ingredients.
Weight Loss Requirements
If you're not losing weight on your current diet, you're likely eating too many calories. All-natural protein shakes can be used as healthy meal replacements that will fill you up on fewer calories than a typical meal.. By creating a deficit of 500 calories per day through a combination of diet and exercise, you can lose about a pound a week, according to Harvard School of Public Health.
How Much Protein You Need
Consuming too much protein could have negative impact on kidney function, according to Harvard University. In addition, too much protein in your diet adds unnecessary calories and works against weight loss. Unless you're a competitive athlete, your requirements are likely around 0.4 gram of protein per pound of body weight. To put it into perspective, a 160-pound adult would require about 58 grams of protein per day.
Basic Protein Shake Ingredients
To make your shake thick and high in protein, choose a "base" such as low-fat cottage cheese, which has 28 grams of protein and just 160 calories per cup. If you don't like cottage cheese, plain low-fat yogurt has a milder flavor and provides 14 grams of protein and 135 calories per cup. For those intolerant of dairy, tofu is a good substitute, providing 17 grams of protein and just 124 calories in an 8-ounce serving. Other high-protein ingredients to consider include ricotta cheese, low-fat milk, soy milk and low-fat Greek yogurt.
Healthy, Filling Add-Ins
Sweeten your shakes naturally with fresh or frozen fruits and berries instead of juice, sugar or artificial sweeteners. Add filling fiber with ingredients like chia seeds, flaxseeds, rolled oats, defatted peanut flour, coconut flour, spinach or kale. Try flavor combinations like peach and banana, papaya ginger, banana oat, mixed berry or a green smoothie with spinach or kale. Always measure the ingredients in your shake to allow accurate calorie counting so you don't sabotage your weight-loss goals.