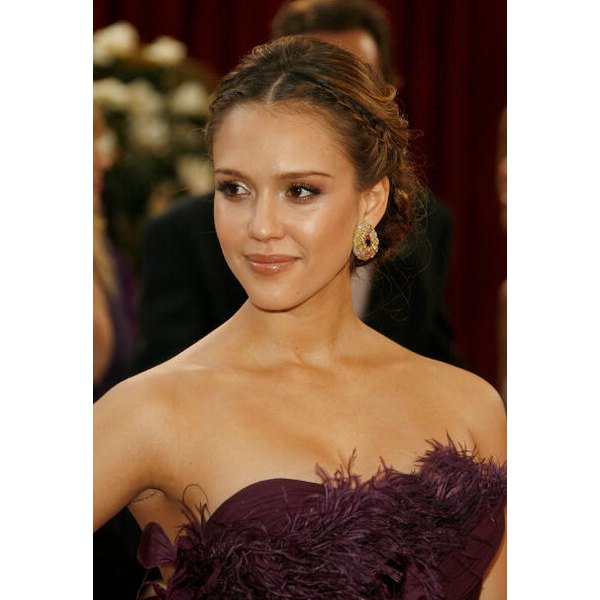 Babies are a common celebrity accessory. New celebrity moms are popping up proud and happy on the covers of magazines every month. They're also popping up on the red carpet looking trim and fit just weeks -- and sometimes just days -- after welcoming their bundles of joy. They look so good soon after giving birth because part of their pregnancy included workouts. For them, gaining a child doesn't mean losing your shape.
2-2-1 Technique
Celebrities often have the help of personal trainers to not only motivate them to get and stay in shape, but to also design a program to address their specific needs while they're expecting. Celebrity moms Jessica Alba and Halle Berry, for instance, work with trainer Ramona Braganza. For pregnancy workouts, Braganza modifies her typical 3-2-1 formula of three sessions of cardio, two sessions of resistance training and one of core work by eliminating one session of cardio for a routine she dubs the 2-2-1 for expecting moms.
Regular Exercise
One cardio session is up to 10 minutes on a bike, then 10 minutes walking on a treadmill, according to Braganza, at an easy pace. For core work, stretching your back like a cat on all fours five times followed by a dozen reps of moderated situps. Afterward, repeat your cardio. Resistance training includes two sets of 10 reps of rowing, squats with an exercise ball between your back and a wall then standing wall pushups; 30 reps twice of lifting 1- to 3-pound weights while standing, bicep curls, and tricep kickbacks.
Christina Aguilera
Singer and actress Christine Augleria also did a similar mix of cardio, resistance and stretching to lose 40 pounds after giving birth to her son, Max. She hit the gym with personal trainer Tee Sorge five times a week and spent 90 minutes doing her routine. The star, however, stresses that wasn't all about no pain no gain. "I started out slow," Augilera says, "just listening to my body and making sure I didn't overdo it. I feel a sense of accomplishment."
Other Options
Mom, physical therapist and editor of celebritypregnancy.com Kim Grundy recommends expectant moms workout with any routine that works for them, and that they enjoy, throughout their pregnancy. Gwyneth Paltrow and Madonna, for instance, embraced yoga to stay lean and lose the baby fat after delivery. Actress Jennifer Garner and singer Gwen Stefani hit the roads and jogged five days a week throughout their pregnancies and after to bounce back into shape after delivering. Heidi Klum, mom and supermodel extraordinaire, likes a mix of resistance and cardio. "Get on the rowing machine," she says. "Get off the treadmill. It's a bigger bang for your buck."