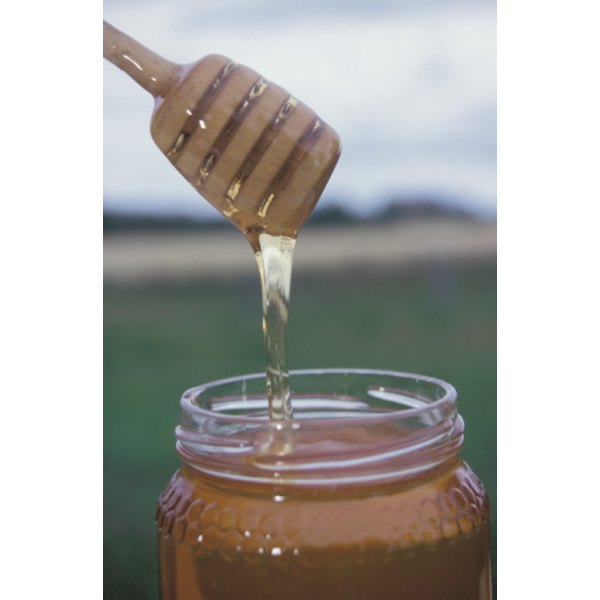 Many people are interested in "functional foods" -- that is, foods that provide health benefits in addition to their nutritional value. For those seeking natural ways to improve or maintain health, consuming certain foods can be a satisfying way to treat physical problems or prevent disease without resorting to medications or chemical-laden ointments and creams. While there are many foods that provide health benefits, three of the most popular are red wine vinegar, garlic and honey.
Vinegar Health Benefits
Vinegar is a time-tested home remedy for illnesses and injuries. According to The Vinegar Institute, vinegar was discovered 10,000 years ago and prized for its medicinal uses. It was used by Hippocrates to treat patients in ancient Greece. Today, vinegar is purported to help treat bee stings, plantar warts, indigestion, arthritis pain, high cholesterol and digestive problems, says registered nurse Bonnie K. McMillen of the University of Pittsburgh.
Garlic Health Benefits
Garlic is another popular natural home remedy. Whether eaten as a food or ingested in capsule form as a supplement, garlic is a source of healthy antioxidants. According to the University of Cincinnati, garlic may decrease your risk for cancer, help prevent heart disease, lower "bad" cholesterol and reduce blood pressure. For the greatest benefit, add fresh garlic to your diet rather than relying solely on dried garlic supplements.
Honey Health Benefits
If you drizzle honey into your tea or on your toast, you're obtaining many health benefits along with all-natural sweetness. Honey is jam-packed with vitamins, minerals and antioxidants, with the darker varieties higher in antioxidants than lighter-colored types, says the Alabama Cooperative Extension System. Honey also contains antibacterial agents that soothe and help heal wounds and skin irritation. It can even be used to moisturize dry skin and calm painful sunburn.
Considerations
Although these three foods are thought to be healthy, nutritious and medically beneficial, only your physician can determine if natural foods are appropriate treatments for your own health conditions. Check with your doctor before attempting to treat an illness, injury or medical condition with vinegar, garlic or honey. However, most people simply use these foods as delicious components of their diets, and benefit from their health-promoting properties as a positive side effect.